Pikes Peak Double
August 16 & 17, 2003
Email I sent out five days before the Ascent on my unusual training over the past two months.
You'd think I'd be done with this race by now, but I'm not. The Marathon is so brutal and so damaging to me physically and mentally that I am pretty much done with that race. The thing I have left to do concerning the marathon is to "double." Doubling, as it is known, is running the Ascent on Saturday and the Marathon on Sunday. This sounds insane and you'd think that it is rarely done, but that isn't the case. It is fairly popular and many people have done it and each year there are probably fifty people who do it. In 2001 Matt Carpenter doubled and won both races – the first time that has been done.
I have a huge amount of respect for the Marathon. In fact, I have a large amount of pure fear concerning that race. I've done it three times and each time it was horrific pain, by far the worst of any event I've ever done. That includes 30+ hour adventure races, triathlons, and long alpine climbing days. If I was going to double, I was determined to go easy, to not be competitive, to just finish and try not to suffer. I could just hike the Marathon and make the cut-off times. There would be absolutely no hope of a good time after doing the Ascent, so what would the point be? Suffer like I have before for a mediocre time or just try to take things easier? I really hoped my mind would let me choose the latter. I figured a six hour pace (3:30 up, 2:30 down) would be pretty reasonable and if that was hard, I should back off even more.
Now the Ascent is a different animal all together. Sure, running up 7850 vertical feet to over 14,000 feet is difficult, but it is just muscles and lungs. The Ascent doesn't beat you up. It doesn't destroy you and it doesn't humiliate you. I have always had a goal of breaking three hours for the Ascent and never achieved it. It seemed reasonable to me to go all out for the Ascent and see if I could break three hours, then take it easy in the Marathon. What were my chances of breaking three hours? 50-50 with good training, I figured. My only other time running the Ascent, I did 3:09, but in my three Marathons, I've done the Ascent in 3:07, 3:15, and 3:06. Last year I knew I could have gone a minute or two faster, but didn't push because of the fearful descent to come.
So that was the plan at the start of the year. The plan when I signed up for this craziness back in April, back when it was a safe distance away and anything seemed possible. Back when I had grand plans of long, hard training runs. These things always seem reasonable when your safe sitting at your desk or curled up on the couch. As the race approaches, reality sets in and you wonder, "What the heck was I thinking? This is a stupid idea!" My training never materialized. In the five weeks leading up to the race week, I had run a grand total of three times for a total of fifteen miles. I ask you, "Does that sound like a reasonable training program for what I had planned?"
I had been biking one day a week and doing a scramble or a climb one day a week. I had spent a week alpine climbing in Canada three weeks before the race, but that only entailed about four hard days of hiking, no running at all. Was I fit? I didn't know. I shouldn't be. On the Tuesday before the race weekend I went out to run and test the shoes I'd be using in the race. I ran semi-hard to begin with and then, seeing that I was doing pretty well, pushed a bit harder, finishing with my third fastest time (38:48) on the Brook Loop (5 miles, 1000 vertical feet). The next day we did the Third Flatiron Time Trial, which involved 1600 feet of elevation gain via running, hiking, and scrambling. The effort was all out and took me 40 minutes. The next evening, Thursday night, I ran the Eldorado Springs Four Mile. I went hard, getting my heart rate over 180 beats per minutes, and felt I raced well, finishing in 25:44, but I was 36 seconds slower than last year. I climbed Friday morning with Hardly and headed down to Pikes Peak that evening in my RV.
Disaster should have been imminent, but I still had hope for a good performance. First, there was no way I wasn't going to give it all I had, no matter the training I had done. Second, last year I hadn't done the necessary training either, though I did do a lot more running, and had my best performance in the Marathon, finally breaking five hours. This year on even less training, could I repeat the miracle? I've had my share of misery down here. Maybe I had banked enough misery for another withdrawal of good fortune.
I met my friends Kreighton and Darren at the start. Last year Kreighton failed to meet his objectives after running very well to Barr Camp, the halfway point. Frequently runners have a tough time on the second half. First, you've already climbed 3900 vertical feet and covered 7 miles and now you need to do the same thing all over again, but start at over 10,000 feet. Without altitude training, you can lose a tremendous amount of time here and in the past, I have also lost lots of time. Kreighton had trained like a fiend early in the year. He was determined to be prepared this year and get his revenge. He was audacious enough to even sign up for the Double, having never run the Marathon before. His training tailed off in the last couple of months leading up to the race as well. Darren had been super fit in the winter, but a two-week vacation to France cost him fitness. Still, he had entered a few other trail races and done reasonably well. This was Darren's first time at Pikes and he was wisely treating it as a reconnaissance run. He'd start out pretty conservative and then see how things went. Kreighton and I assured him that the last three miles would take a full hour. We doubted that he believed us and most runners wouldn't believe us. At least until they've done this race.
Kreighton is great competition for me. A former Junior National cyclist, his barrel chest contained prodigious lungs and his past competition experience has well prepared him to suffer in races. He is very talented and almost always crushes at trail races. Most recently, in my last trail race a couple months ago, he beat me by over three minutes over a hilly, 10K course. I can only keep up with him when he's either having an off day, isn't in top form, or the course involves more hiking than running. I expected him to blast the course, but he wasn't so cocky this year. He had paid last year for his insolence and was determined to pace himself better. He too was shooting for a sub-3 hour Ascent time. I hoped to keep him in sight for as long as possible.
The gun went off and I took off, trying to stay relaxed and take things easy. Like in every race, way too many people go out too fast. At least two hundred or more people were ahead of me after the first five minutes and I was going too fast. Matt Carpenter's race calculator says that a 3-hour racer should reach Ruxton Ave. in 3:56. I got there in 3:10. My heart rate was 160, nothing to worry about, and it felt very comfortable. That was the key for me: to keep things reasonably comfortable for as long as I could. I didn't carry any water, assuming the aid stations would be enough to keep me hydrated. I did this in my last Ascent race and it worked fine. I did carry four GU's and would consume one every 30-40 minutes. I also did one thing different from my previous races. I ran in racing flats, hoping that the ultra light shoes would give me the extra advantage I'd need to break three hours. I had never run longer than a 10K in these thin-soled shoes, but the Ascent doesn't pound you like the Marathon. I'd never try this tactic in the Marathon, despite Matt Carpenter's advice to do exactly that. I also carried my MP3 player with a selection of songs that inspire me to push and to hurt.
I had gapped Kreighton immediately. He hadn't warmed up much and wasn't prepared to run fast on pavement. The start of this race is on paved streets for the first 12 minutes or so and then it heads up the Barr Trail clear to the summit. I walked the really steep hill at the start of the trail, like I always do. I think it is unwise to run anything this steep anywhere in the race, especially at the start. Most of this race isn't that steep and is quite runnable if you have the legs and lungs. The course averages an 11% grade.
Once I'm on the switchbacks of the W's, I start passing people in earnest. I pass one guy, Tom, and end up hooking up with him clear to Barr Camp. His previous best is 2:48 and he claims we're on a 2:45 pace. I think that's nonsense, but running with him helps me. He's carrying a bottle so, while I walk through the aid stations religiously drinking my two cups of water or Gatorade, he stretches out a lead. Each time I'm able to catch him a bit later and we run together. He pushes hard on the few flats and descents and motivates me to go with him. I remember Jed DeOrsay saying that I need to work harder on the level sections on climbs.
I get to the top of the W's two and a half minutes ahead of pace and I'm three minutes up at No Name Creek. I'm running faster than ever before. My heart rate is in the 170's, but it doesn't feel that painful. I might be going out too fast, but it feels right. I'm thinking that I might have a good day since not only can I get my heart rate high, but it doesn't hurt too badly. At Barr Camp I'm up five minutes and start to think it just might be possible. In the past I've really lost time up high and vow to run as far as I can, hopefully to the A-Frame. Above there it will be impossible for me to avoid a good deal of walking.
I drop Tom around Barr Camp and never see him again. I'm still passing people regularly, but things are much more strung out and it takes a long time for me to pass them and put some distance between us. I am only four minutes up at the Bottomless Pit, but figure some of that loss was due to walking through Barr Camp. I run to within a couple minutes of the A-Frame, before I give in to the urge to walk. Still I make it here almost six minutes ahead of schedule.
When I passed the "Four Miles To Go" sign I calculate that I need to average 18 minutes per mile to make it. I passed the "Three Miles To Go" sign a bit above the A-Frame and it had taken me 18 minutes to cover that mile. I had a brief period of despair here. I knew I'd get slower as I went higher. I'd never make it. I figured it must be due to the walking at the A-Frame aid station and tried to stay positive.
At this point in the race there is an overwhelming desire to ease the pain, to go a bit slower, hoping that it is still good enough. You might even rationalize that if it isn't good enough that you can make it up in the next mile. I resisted this. I wanted to keep on pace for as long as possible. As long as I was still on track it would motivate me to endure the pain. If I was going to fail, I wanted it to be in the last mile with nothing left.
I ran the 3rd to last mile in 16 minutes and now I could average 19 minutes per mile. It's funny to think that I ran a really strong mile and it had taken me 16 minutes, but I considered that quite fast. This race certainly changes your perspective about per-mile pacing. I had earned a bit of a cushion. Now I could take things a bit easier, right? No. If I'm going to take things easier, I'd do it in the last mile. I had to keep pressing, to keep hurting, or it would still all slip away. I got to the "One Mile to Go" sign at 2:39. I had 21 minutes to do the final mile. A short while afterwards I was overcome with emotion and psyche, knowing that I was going to do it. My heart rate jumped 5 beats and my chest tightened up. It was too early for such emotions. In fact, shortly afterwards my calves started to grab on me and so did my feet. I've never had foot cramps while running before. While swimming these are relatively common, but never while running. I was certainly concerned about this, but they never locked up on me and forced me to stop and stretch, though it was close.
In the last few miles I consciously pushed hard to run 8, 9, or ten minutes of each mile. I'd power hike the rest. In the last mile I probably only ran 2-3 minutes of it, but it was enough. I finished in 2:57:45. I was drained and wasted, but incredibly happy. I wished for someone to celebrate with me and it was granted. "Bill!" I hear Sonya, Kreighton's wife, calling for me. I turn to see Donna, Darren's wife, and Janet Conner, another friend. They have all made the trip to the summit to lend their support and their cheers to our efforts. Before I joined them, I staggered into the medical tent to sit down. I had no clothes checked and it was cold and windy on top. I was doing fine and mainly sought shelter. Alone, in the building, sitting in my chair, I bowed my head a bit and broke down quietly. I'd done it. Against all odds and reason, I had succeeded. It was similar to last year in that I had emerged from this race with a stunning result more due to luck than training or talent. I think this is all payback for the disaster that befell me in the 2001 Marathon.
I was the 43rd overall male (out of 1103 finishers) and 2nd in my age group (after taking out the top ten overall and then taking out the remaining top five masters). Of the 502 female finishes, two had beaten me. Anita Ortiz won the race in 2:52 and Gretchen Ellis was less than a minute behind. Simon Gutierrez won the Ascent with a new age-group (35-39) record of 2:13:29. The talent wasn't very deep though. If Kraig had run his time from last year, he'd have placed 3rd. In fact, this year, for a change, the best talent was in the Marathon, though it wasn't really deep in either race.
I stagger outside and join the three women who shower me with undue praise and lend me clothes to wear. They are angels and I am thrilled to be with them. We anxiously wait for Kreighton and Darren to finish. As the clocks ticks past 3:05 and 3:10, we know Kreighton has had a bad race. With each passing minute I anguish for him. By all rights he should have been faster than me this year. Clearly he has run into an injury or is cramping. At 3:19 we see him and we know the answer. It's cramping. He's walking stiff legged and clearly in a tremendous amount of pain. Later I'd find out that he was doing fine and feeling pretty good clear to the A-Frame and still on a 3-hour pace. Then it went to hell. Perhaps everyone has to pay this race a tax in misery before you are granted a good result. I paid mine over three Marathons. Kreighton just made his second Ascent donation. A while later Kreighton emerged from the medical tent and immediately embraced me. His race had gone bad and was tremendously painful, but he knew I had succeeded and was very happy for me. At that particular time it is exceedingly difficult to display this type of compassion, but nothing he does surprises me.
Darren finished around 3:30 and he looked great. His strategy worked perfectly and he didn't have much misery. He seemed ready to go do it again. Soon after he arrived we left the summit. Kreighton and I needed to get to low altitude and start eating and drinking so that we could recover for the next day. We took a van down three miles and then the rest of the way in Kreighton's camper van. Back at the start, we signed up for a 40-minute massage (only $20!) and I had the complimentary hotdog and chips for lunch. After that I headed to the campground in my RV.
Complete results for the Ascent can be seen here.
| | | | | |
| --- | --- | --- | --- | --- |
| Location | 3-hour ascent rate | Previous PR | 2003 Ascent | Heart rate average |
| Ruxton Ave. | 0:03:58 | 0:03:12 | 0:03:06 | 160 |
| Hydro Street | 0:11:20 | 0:10:23 | 0:10:11 | 164 |
| Top of the W's | 0:36:11 | 0:35:22 | 0:33:48 | 167 |
| No Name Creek | 0:52:44 | 0:52:14 | 0:49:35 | 165 |
| Barr Camp | 1:31:26 | 1:31:24 | 1:26:40 | 167 |
| Bottomless Pit | 1:44:46 | 1:45:06 | 1:40:25 | 167 |
| A-Frame | 2:08:10 | 2:08:13 | 2:02:30 | 167 |
| 2 miles to go | 2:26:10 | 2:29:10 | 2:22:03 | 166 |
| 1 mile to go | 2:41:28 | 2:45:42 | 2:38:55 | 165 |
| Summit | 3:00:00 | 3:05:56 | 2:57:45 | 166 |
<![if !supportEmptyParas]> <![endif]>
<![if !vml]>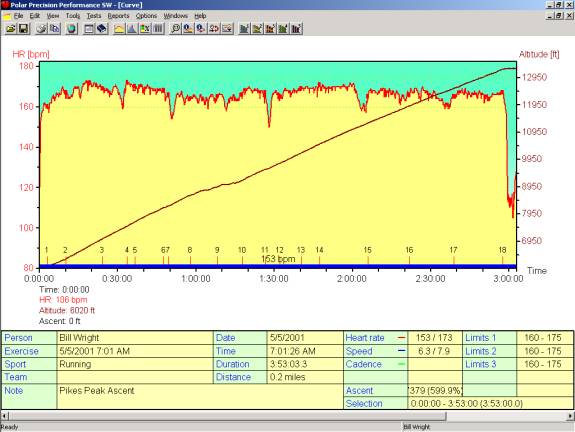 <![endif]>
The Marathon
Just like in alpine climbing, when you've accomplished a great ascent or bagged a great peak, the motivation to do another one immediately after is less. You're satisfied. If you were turned back by the mountain, then you tend to be a bit hungrier for more. With such a great result in the Ascent, my motivation for the Marathon was waning. I was hoping Kreighton's miserable ascent above the A-Frame might convince him to drop out of the Marathon and then I'd immediately drop with him. He wouldn't even think of it, though. He is so tough and provided me with the fortitude to continue the plan as well.
Homie and Lori Prater would be joining us for the fun, as well. Homie has run quite well here before, with a PR of 5:11 and I had to resist the urge to try and keep up with him. He is also a great competitor of mine. We are very close in ability and it will hurt to watch him run up the trail without me, but I must continue to tell myself that I did what I came down to do and now I just need to finish the Marathon without suffering, or at least not suffering too badly. I've done that. I've paid those dues. I have no desire to do that again. It's funny. Alpine climbing pain always fades for me and I'm game for another brutal climb in a couple of weeks. The Marathon is different for me this year. I still fear it so much, despite this being my fourth year in a row. I'm just empty for this race and don't want to suffer like that ever again. The problem is that you can get yourself into trouble pretty easily. Like I said before, the Ascent isn't so much the issue, but if you go hard here and start cramping early on the descent, then not even God can help you. You are in for hell on earth. Hopefully the hubris of a good time will be controlled. Hopefully the competitiveness to stay with Homie will be squelched. It is my only hope.
After Homie and Lori arrive at the campground, we head down to the pool to soak our bodies. Talk of the next day's race makes the rounds and we discuss our different strategies. I say that I'm going slow and Homie scoffs. He says, "You'll go harder than me. I know it." I've told myself I can't do this. I shouldn't do this, but just having Homie say it, makes me think crazy thoughts. Why can't I take things "easy" tomorrow and go up in 3:10? Then just trot down, taking time out to chat with the volunteers at each aid station. I don't know what I'll do. I'll probably be second guessing things all the way up and down. I try not to think about it. The next day will reveal all the answers.
We're up at 5:30 a.m. and driving over to the start within ten minutes. None of us planned to do much warming up and concentrate on drinking, eating something and successful, substantial trips to the bathroom. I noticed Matt Carpenter at the start and wished him luck to break the age-group ascent record set the previous day. Matt would end up missing this record by less than two minutes, but he'd win the race by 20+ minutes and set the Marathon age-group record at 3:43:46. It was Matt's sixth Marathon victory. I talked with him briefly after the race and he said, "Hey, I got two out of my three goals and that's cool. If you reach all your goals, then you set them too low!"
Kreighton and I lost Homie and Lori just before the start and I led Kreighton off the line as the gun went off. I went out nice and easy, with my heart rate more than 15 beats lower than the previous day. I was going to put out some effort, but generally wanted to avoid agony. I know what you're thinking: what a sissy. It's true. I had some excuses to take this approach, but the fact remains. In retrospect this probably allowed me to run a better time. Pacing is key in this race. It is very difficult to hammer hard for five hours of running.
I noticed Homie in front of me as we turned onto Ruxton Avenue. I marked him and gradually closed the gap until I was right with him. As I pulled up I said, "Way to go, Homie." He didn't respond, saving his breath. I do the same in races. I frequently just wave or nod an acknowledgment. I can't waste any oxygen on speech. Homie slipped off the trail just as we started up the W's and I helped him regain the trail. Here I took the lead, thinking I'd do some of the pacing chores up the W's. I remembered when Matt Carpenter dogged Scott Elliott up the lower part of this race. Matt figured the most annoying thing to do to Scott was to stay right behind him and try to breathe like he wasn't working at all. I didn't want to annoy Homie in any way. I wanted him to do great and if I couldn't help, I certainly didn't want to bother him. I moved in front, but my pace was a bit too fast and I opened a small gap on him. This would grow and I wouldn't see him again until near the summit.
Halfway up the switchbacks of the W's, I came across Pemba Sherpa, a friend from Boulder and a competitor in the Third Flatiron Time Trial of last week. He was just emerging from the woods for a bathroom stop, I assumed. He scurried off in front of me and I wouldn't see him again until above tree line. I'd pass him above tree line, but only after some nice conversation. I cheered him on my way back down then at the finish. He's a nice guy who owns a local Nepalese restaurant. Heck, it is always a thrill to be beat a real life Sherpa!
I was concentrating on keeping my heart rate under 160 bpm, figuring I needed a slow pace if I was to survive the day. I was a bit energized by being in front of Homie and Kreighton, but I knew they were just pacing things and expected them to pass me further up when they'd be more motivated to endure the pain than I was. I had a pretty good time here. As I've said many times before, "Speed kills" and the flipside is true as well. A slower pace certainly makes for more enjoyable running. I caught and passed a steady stream of runners from here to the summit. That's always fun. I marked my time against the previous day and found I was about 9 minutes behind at Barr Camp. That put me on a roughly 3:15 ascent time. My personal worst on the ascent is 3:15 and change and I was hoping to better that time.
With four miles to go, I had to only average 20 minutes per mile to break 3:17, so I really relaxed. Little did I know, but Kreighton was steadily reeling me in, running two sub-17-minute miles from "Three Miles to Go" to the "One Mile to Go" sign. I'm sure I was a real incentive for him to push a bit. I saw him with about a mile to go and he waved to me from a switchback below me. I figured I had about a minute lead on him. Now the tables had turned and he was my incentive. I didn't want to be caught before the summit. I tried to run whenever the terrain allowed and I frequently checked Kreighton's location. I topped out in 3:13:25 and Kreighton was only thirty seconds behind me. I knew pushing toward the summit that I was setting myself for a big crash on the descent, but I didn't care. That pain and suffering was in the future. I'd deal with it then.
Kreighton quickly caught me on the descent and we ran together for about a mile and a half. We cheered on Homie as we passed him and I said, "Come run me down, Homie!" I wouldn't like Homie passing me in the last 100 meters and maybe not in the last mile, but I was all for him passing me on the descent. Homie would summit at 3:21 and give chase. We also cheered Lori and she cheered us back. I looked at my watch and predicted a 3:40 ascent time for her. We'd find out later that it was 3:41. While still ascending I had cheered on Galen Burrell and Jed DeOrsay, who were in about 14th and 15th place at the time. Galen finished in 9th with an incredible debut time of 4:27. Jed finished in 13th about ten minutes behind Galen. These two are just awesome runners. I talked with them at the finish and they looked completely fresh. Of course, by the time I got down they had time to change, shower, eat a light lunch, and take a nap.
I stupidly ran right through the Cirque aid station without getting any fluids at all. I just was preoccupied with all the people and didn't want to run into them that I forgot all about the water. Kreighton stopped to refill his bottle and was soon chasing me down. Just before he caught me, disaster struck. He says:
I stopped to refill with Gatorade at the Cirque aid station and he continued. It took me a minute or two of running to get almost back to Bill, at which point I knew I would have to open it up to break five hours, but I felt so incredibly strong that I was excited to get down to treeline and start going hard. All of a sudden, while running with my sunglasses in my left hand, to dry the condensation off, my right ankle rolled out from under me. I went down on my left side, jumped up and ran about 100' and stopped. It was already swelling up. I couldn't figure out what to do, but then realized I could switch out the ankle brace I wear on my left ankle. I stopped and did this, which took a few minutes, as I had to reverse the straps, and then was running again. I was completely amped and knew that I probably only had a little while before the pain or the swelling became unbearable, so I started hammering.
I heard him go down behind me and hoped that he would bounce right up and soon be on my tail again. I thought about stopping and heading back up to check on him, but, to my utter shame and disgust, I kept going. I rationalized that I couldn't do anything or that he'd be fine and on me shortly. I thought if I tried to stop, I'd cramp or wouldn't be able to get rolling again. Races make me insensitive and selfish. I don't much like that.
I rolled on down the trail, running very easy, knowing that either cramping or bonking or just plain running out of gas had to be inevitable. There could be no escaping it, but I tried to put it off by running easy. My heart rate hovered around 140 bpm. I wasn't as fearful of the impending suffering because, I told myself, when it came, I'd just sit down and eat, drink, stretch, and relax until I could continue on without suffering. I had no time to push for on the descent.
At the A-Frame, I handed my Camelback to the volunteers and they graciously filled it while I took off my shoe to dump out a rock. The volunteers at this race are tremendous. The fans at the top and the ones that line the streets in Manitou Springs for the finish are tremendous. The organization of the race is incredible and always goes smooth. It is really a model event on how to put on a race.
I continued down at my casual pace and just above Barr Camp, Kreighton comes roaring by me. I cheered him on and he responded by saying that he doesn't think he can break five hours, but he's going to do the best he can. I checked my watch, did some calculating and concluded that, no, he couldn't make it. He'd have to run 7 minutes per mile for 8 more miles. On these rocky, twisty trails, after all we'd been through, I didn't think he could do it.
I walked through the aid stations on the way down as well. I was cheery and chatty with the volunteers and took my time. What a difference from my previous experiences. I'd make sure to get down two full cups of liquid and maybe a few pretzels before continuing. Ten minutes passed the Barr Camp aid station, while ascending one of the few uphills on the descent, I spotted Kreighton ahead. He appeared to be cramping a bit and I increased my pace a bit to catch him. We ran together to the next aid station and both walked through it as well. Just past the aid, Kreighton stopped, saying something about his shoe. I thought he was just removing a rock from his shoe, but that wasn't the case:
I stopped to loosen my shoelaces as the ankle was swelling pretty badly out of the front and back of the brace, and from there on down I alternately walked and shuffled my way to the finish. I took one extended stop in the W's and realized that I could not stop again before the bottom if I wanted to make it, so I put my head down and shuffled in.
My descent had been going well and when I passed the "4.9 Miles to Go" sign, I decided to finally start pushing things. It was such a radical jump in pace. I went from a heart rate of 140 to 155 and then to 160+. I was taking huge strides, grabbing the posts at the hairpins and slingshotting my self around the curves. On one of them, I let go a bit too soon. My feet shot out from under me and I hit like a ton of bricks on my side, even bouncing my head off the trail. My hip and forearm were bleeding, but I bounced right up and soon forgot about it. I passed three runners in the W's and was bearing down on three others. I ran right through the last aid station, MP3 player cranked up high. I bore down on the runners ahead, excited about running them down before the finish and kicking by.
Alas, when I made the last hairpin turn and headed down the final 0.9 miles, I was done. I had gone a bit too hard and didn't pace myself well. The steep descent and fast pace made my feet felt like they burning with blisters.
I faded and the final mile involved some suffering, but nothing compared to the previous three years. The crowds were so great here and I acknowledged each cheer with a wave. I felt like I was finishing first at the Boston Marathon, nonchalantly raising my hand as if I had practiced it. Near the finish the cheers were even greater and I couldn't resist raising my hands, not in glory, but in relief to finish and in acknowledgment of the great support of the crowd and my appreciation for the help in getting me over the line.
Immediately upon finishing, I locked up pretty good. I sat down in a chair and volunteers rushed to give me water, Gatorade, pretzels, oranges, grapes, bananas, etc. They are so kind and attentive. I had finished in 5:09:37, a respectable time and I was pretty excited about it. I was the 40th male (out of 596 finishers) and 9th in my age group (out of 102), but because they pull out the top ten and the top five masters, I got an award for 4th in my age group. I had pushed as best as I could in the last mile to first break Homie's PR of 5:11 and then to break 5:10. I went to the medical tent to get my forearm cleaned up and bandaged and by the time I returned to the finisher's tent, Homie was already there, having finished in 5:17:59 (49th male, 15th out of 98 in his age group.) Pemba finished 53rd (10th in his age group out of 87). Surprisingly, Chris Reveley, legendary Colorado climber and umpteenth Pikes Peak Marathon finisher with many elite times, finished 65th in 55:16:11. Last year, at 50 years old, he finished as the 2nd overall Masters with a time of 4:47. He was fighting a virus, but ran anyway.
I asked Homie if he passed Kreighton and he told me that Kreighton was in trouble and hobbling, but would finish. He came limping in at 5:41:51, clearly in agony. Still, he finished 7th (out of 39) in his age group. His ankle was twice its normal size and getting bigger. How he got down 11.5 miles and 6500 vertical feet on that ankle is beyond me. I cannot comprehend the toughness involved in such a feat. In both races things went very badly for him. He deserved to crush me in both races. His talent, fitness, and toughness far exceeds my own and I'm somewhat embarrassed by the results. I feel very badly for him because he's my friend and I want so much for him to succeed. Even with his tough results, he doesn't wallow in self pity like I did, but congratulates his friends and is happy for their accomplishments. His character is superlative.
The big story of the race was the women's race. Angela Mudge, a former World Champion Trail Runner, won in the second fastest time ever! She ran 4:19:38 in her first attempt at this race and was 4th overall! To top things off, she wasn't even the first to the summit and won the race by only three minutes over Erica Larson who had won the race the last four years. Both women's ascent times were seven minutes faster than Anita Ortiz's winning time the day before.
That might have been the big story for the race in general, but the big story of our group was Lori Prater. Lori is a former collegiate hurdler and high jumper. A six-foot blonde with legs nearly up to her shoulders, she can take strides of enormous proportions, but she had never previously been a distance runner. I think this was her second ever trail race and she picked the hardest trail race around. In her debut, she broke six hours (her goal) and won her age division! Talk about doing things right. Lori was the 26th woman to finish. She was a bit slower than she had hoped on the ascent (3:41), but didn't panic and ran downhill like she has never done before. Clearly she has a burning competitive fire in her belly. She pushed hard and finished smiling, but with pretty severe cramps. As she lay on a cot with Homie and I beaming over her, the medical technicians tried to get an IV in her, but failed. They claimed her veins were too small and dainty.
I saw Brian Hunter walking around with his kids. He was down cheering on his wife Vicki, who once again put in an amazing performance. Not only did she finish as 20th woman, but she was the 4th overall Masters and therefore gets a free entry to the race next year. She ran 5:47:40 and looked so fresh immediately after finishing. She's done this race ten times and she has it down!
Complete results for the Marathon can be seen here.
When I got home later that night, after eating a bit and drinking quite a bit, I weighed 158 pounds – about seven pounds down from my starting weight on Saturday morning. I'm not sure what my weight was at the start of the race on Sunday. Suffice to say I was at least ten pounds down for the two races at the end of the Marathon. I can function pretty well while losing that much water weight. I know that when I lose 15 pounds (as I did in 2000 and 2001), my body does not respond very well and becomes one giant cramp.
So, what's the future for me in this race? I don't think there is any more I can accomplish here. Breaking five hours for the Marathon (last year) and then three hours in the Ascent this year are likely the best I'll ever do. Even those results are a bit of a lucky fluke. And now I've done the Double. I finished as the fourth best Doubler this year. I was third after the Ascent. The races went well this year with a minimum amount of pain, but the Marathon turned out that way only because I took things easy. I talked with Galen and Jeb after the race and even those superstars agree: this is the toughest race they've ever done. It beats up everyone. It breaks down everyone. If you go hard start to finish, at your personal limit, this is the toughest race I've done. In order to PR in this race, it will take a supreme amount of suffering. I'll probably be back often to do the Ascent. In comparison that is a trivial race and it doesn't leave you beat up. In fact, I know of a couple of people who did a marathon on the following day. I'm certainly taking a break from the Marathon for a while. I want to try something easier, like maybe the Leadville 100…
Complete results for the Doublers can be seen here.
| | | | | |
| --- | --- | --- | --- | --- |
| Location | 2003 Ascent | Ascent heart rate average | 2003 Marathon | Marathon heart rate average |
| Ruxton Ave. | 0:03:06 | 160 | 0:03:32 | 142 |
| Hydro Street | 0:10:11 | 164 | 0:11:11 | 156 |
| Top of the W's | 0:33:48 | 167 | 0:36:57 | 160 |
| No Name Creek | 0:49:35 | 165 | 0:54:40 | 158 |
| Barr Camp | 1:26:40 | 167 | 1:34:57 | 157 |
| Bottomless Pit | 1:40:25 | 167 | 1:49:46 | 154 |
| A-Frame | 2:02:30 | 167 | 2:14:05 | 153 |
| 2 miles to go | 2:22:03 | 166 | 2:34:46 | 152 |
| 1 mile to go | 2:38:55 | 165 | 2:53:03 | 148 |
| Summit | 2:57:45 | 166 | 3:13:25 | 151 |
| Barr Camp | N/a | N/a | 4:12:42 | 140 |
| No Name Creek | N/a | N/a | 4:43:37 | 146 |
| Finish | N/a | N/a | 5:09: | ? |
<![if !supportEmptyParas]> <![endif]>
<![if !vml]>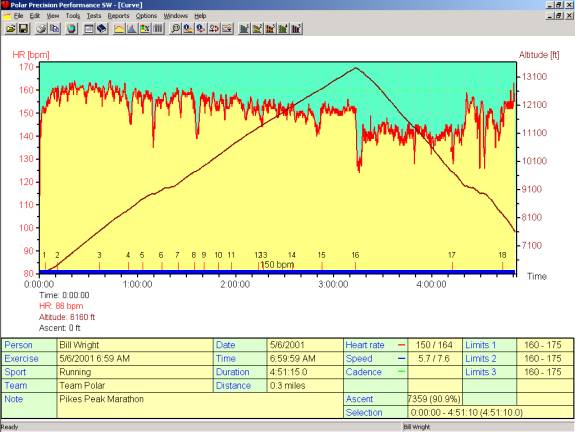 <![endif]>
Figure 1: Marathon heart rate and elevation profile. The watch's memory filled up before I finished.