Satan's Minions Scrambling Club's 4th Annual Third Flatiron Time Trial
August 13, 2003
Satan's Minions Scrambling Club has been staging an informal time trial up the Third Flatiron for the last four years. Traditionally it is done on August 1st, when the rock's bird closure is lifted, but this year it was postponed since I was out of town, climbing in Canada. Our best turnout was last year when we had ten competitors. This year proved considerably bigger, better, and faster. We had eighteen racers, three riggers, and no less than ten spectators. Even some celebrities turned out, as the pint-sized rapper "Good n' Plenty" showed up with his entourage.
<![if !vml]>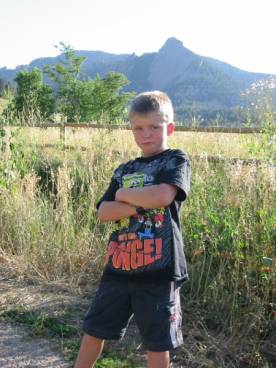 <![endif]>    <![if !vml]>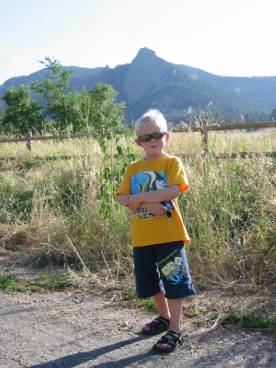 <![endif]>
Photo 1: Good n' Plenty and his sidekick Lemon Drop at the start.
We were to meet at 5:30 p.m. but when I showed up at 5:20, there were already ten scramblings suiting up. The riggers had all taken off by 4:30 p.m. I checked in with the riggers, Kre, Fred, and Alan, via our radios and found them already on the summit and rigging the three rappel lines. They strung three 60-meter ropes from the summit down to the ground and did a perfect job. These riggers were no slouches as climbers either. Alan had recently done the Longs Peak Triathlon and climbs 5.13. Kre climbs 5.12 and she brought along her fiancé Fred. They volunteered to do it because they like this scrambling stuff as well, but prefer not to cough up a lung while doing it.
<![if !vml]>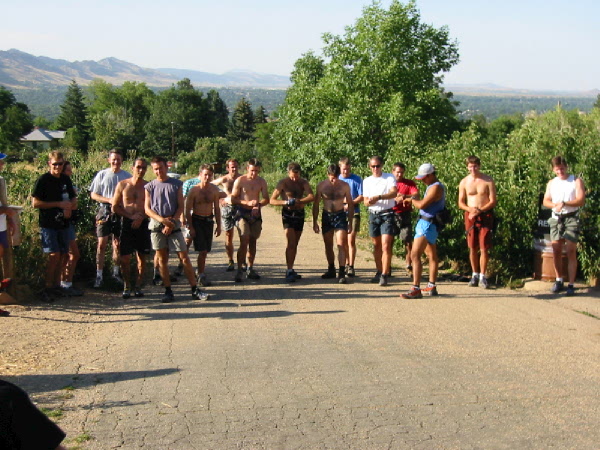 <![endif]>
Photo 2: At the start...
The course involves running/hiking to the base of the East Bench on the Third Flatiron, then scrambling up the eight-pitch, 5.2 East Face route to the summit. Once there, you rappel 200 feet to the ground, pick your way down the talus on the north side back to the trail, and run out. The roundtrip is probably 4 miles and gains 1600 vertical feet.
We congregated at the traditional start just above the southwest corner of the parking lot at the trashcan. I gave a short speech about the race and we got ready to go. The competition in this race was daunting. The two most celebrated Flatiron scramblers of all time were there: Bill Briggs and Buzz Burrell. Both of these guys are over fifty, but have about 4% body fat and their lean muscle definition warned any neophytes against underestimating them. Bill had set the record for the Grand Slam (20 miles, 9000 vertical feet, five summits all over 13,000 feet, 5h13m) the previous day and, despite being the unsupported record holder at an amazing 36m27s, would be taking things easy. He was also be the only one going without a harness and planned to downclimb the Southwest Chimney, unsupported by the ropes. Buzz was 2nd last year only because he had a big lead at the summit and took things too easy on the rappel and the descent. He was determined to go hard start to finish this time, even though recovering from the flu. He also came prepared to fly down the rappel as he carried a pair of gloves. This would turn out to be a great idea.
Good n' Plenty started us: "Scramblers to your marks. Ready. Go!" Jon Sargeant and Phil took off like a shot and quickly opened up a big gap. Tony Bubb was right behind me at this point and he said, "Either that guy is going to blast an amazing time, or he doesn't know the course and he's going to blow sky high." I responded, "That's Jon Sargeant and he ran the Pearl Street Mile in 5:10, so he's got tremendous fitness." I knew Jon from the Spot bouldering gym and he was an avid Flatiron scrambler, though didn't have any records as yet. I figured he wanted this title and he was going for it.
Next was Ico de Zwart and Pemba Sherpa. Pemba likes to start fast. I remember him doing the same thing on the Mt. Sanitas time trial. He had never run that course then and blew up. He hadn't done the Third Flatiron before either and I wondered if he'd blow again. I liked the audacity though; he was throwing the hammer down.
I was next with Buzz and Stefan right behind me. When the trail got even steeper after four minutes, Buzz and Stefan pulled up even with me, but I picked up the pace and maintained my lead, but only for a couple more minutes. We passed Pemba around here and hit the Royal Arch trail junction in 6:34 – thirty seconds ahead of my PR pace. Stefan says, "Wow. That's way faster than I've ever gone." Both Buzz and Stefan went by at this point, but I maintained contact with Stefan. Buzz was off to the races on the steep terrain. Jon must have hit this point around six minutes flat.
At the next junction, where the scramblers need to go right to the Third Flatiron, Phil went straight toward Royal Arch. Jon yelled after to correct him, but I think he ended up bushwhacking straight up to the Third Flatiron and getting on the rock lower down. I managed to catch and pass Stefan when he headed left too early and then directed me to continue up further. This is really cool. Everyone is going hard and doing their best, but trying to help the others as much as possible.
I hit the face in 16:53, down twenty seconds from my PR effort. Clearly the fast start had hurt me. I immediately started up it. The face was swarming with speed scramblers. Usually this late in the race, with a mass start, racers are very spread out, but here we still had a tight grouping at the front. Stefan was right even with me. I saw Jon off to the left. Mark Bockmann was less than a minute behind me below. I was closing in on Ico de Zwart above me. Near the top, Bill Briggs comes swarming up behind me. He might be taking it easy for him, but he was still running me down. He graciously let me go first whenever our paths intersected. Jon Sargeant passed me right before the summit, but I was only a few seconds behind on top. Stefan had gotten too far to the left and had to downclimb a bit to get back right. This was his first time climbing the Third Flatiron as well.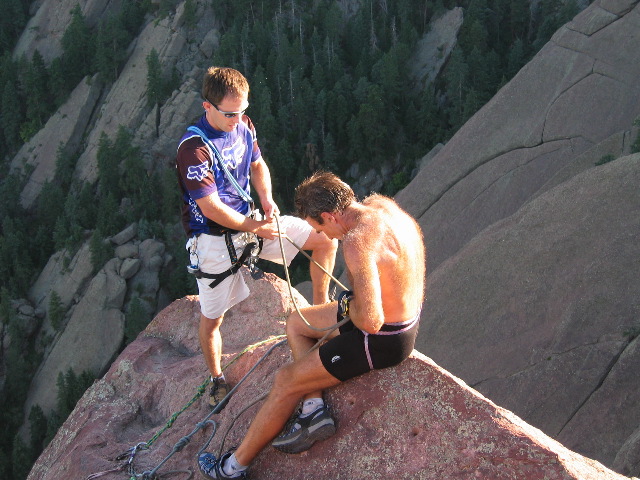 Buzz on the left (with rigger Alan Doak) and Bill Briggs on the right. These two own almost every Flatiron speed record.
At the summit, Ico de Zwart had to redo his harness and I jumped on the lines before him. Two or three scramblers had to wait at all at the lines. Having three ropes really sped things up. I thanked the riggers, slapped on my rappel device, and went over the edge. On a mostly free-hanging 200-foot single-rope rappel, there is a lot of friction needed to slow things down. I supplied a lot of this with my hands and my side. My shirt wasn't tucked in and the rope burned me a bit. I had to slow things down. Jon beat me to the ground, but I ran my rappel further down the hill and right off the end of the rope, to get in front of him.
A Channel 4 helicopter was circling around the Third Flatiron and the other racers wondered if I had alerted the media to our event. I did not. My friend Hardly Manson saw us on the news that night, though. They were doing a segment on the weather around Boulder and showed us climbing up to the summit and getting on rappel for the descent. I'd love to see that footage.
I led Jon down the talus in hot pursuit of Phil just ahead. When I made the mistake of starting down the talus too early, Jon didn't follow and kept on the right path. I ended up flailing a bit over by the Second Flatiron, but found my way back to the trail, now behind Jon. Tucked in the woods here was Tim Lim's SO Kim. She cheered me on and then said, "Don't break your ankle, Bill!" I was aware that an ankle twist would be very bad considering I had three races planned in the next four days. I didn't push things too hard on the rocky sections, but tried to go fast on the smooth parts. I was looking over my shoulder for chasers. I knew Ico de Zwart couldn't be far behind and I didn't want to be caught so close to the finish.
Last year I set the unsupported record of 39:20 and this year I promised to buy a beer for anyone breaking forty minutes. I desperately wanted to break 40 minutes myself. When I passed the drinking fountain, which I knew to be about 70 seconds from the finish, I looked at my watch: 39:01. I wasn't going to make it. I tried anyway and pushed hard, finishing in 4th place with a time of 40:06.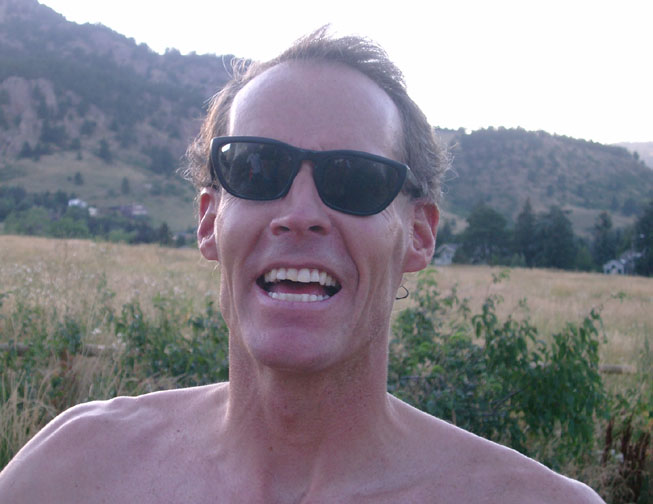 Photo 3: Apparently I'm very glad to be finished.
The grand old man, Buzz, had won and won big. He finished more than two minutes ahead of second place with a time of 36:49. Next was Phil in 39:03, then Jon with 39:23. Ico de Zwart finished in 5th with 41:??. Of the 17 racers, all but two finished under an hour and the majority were under 50 minutes. It was a tremendous field. The two that were over an hour were Galen Burrell and Myke Komarnitsky. Myke finished limping down the trail with a severe nerve pinch in his hip that forced a painful walk. I shook his hand at the end, figuring he had given up all plans to even get a time, but he dutifully continued past, weaved his way through the crowd, touched the trashcan and stopped his watch. Galen was taking things easy the whole way and walked the downhill because he's entered in the Pikes Peak Marathon in four days and should be in the top five in that race. He didn't want to jeopardize his chances in that race. He's excited to give it another try later this fall. Also, Dave Mackey was planning on doing this, but got the flu and had to drop out. He'd be a major threat to win as well.
<![if !vml]>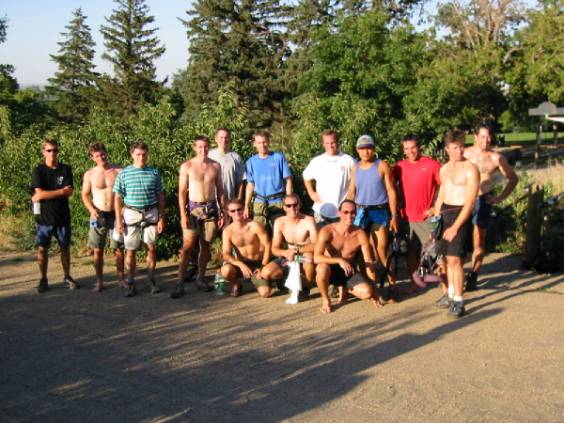 <![endif]>
Photo 4: After finishing (not pictured are Buzz Burrell, Galen Burrell, and Bill Briggs). Click here for a mouse over photo.
Lots of people had huge PR's from the previous year, including Mark Bockmann (43:07), Tony Bubb (48:18), Peter Spindloe (50:29), Martin (55:03). Stefan (43:49) and Pemba (5?:??) had PR's simply by virtue that it was their first time doing the Third. Peter even bootied a #3 rigid-stem Friend on the way up the face! One disappointment to me and at least one other was that there weren't any roped parties on the face for us to blast by. That's got to be quite a sight for them when 17 crazy speed soloists blast by them over the course of five minutes.
We hung out for quite awhile reveling in the joy of competition, the sweet pain of pushing yourself as hard as you can, and the camaraderie. I think Jon Sargeant, in the midst of the race, said to me, "Thanks for putting his on, Bill. This is cool." I couldn't respond, as I had no breath to even speak, but I thought it was cool that he'd take the time to say this.
After the riggers got down many of us went out to Old Chicago, twenty of us in fact. We all pitched in to buy the riggers pizza and beer and had a jolly time. Everyone is now clamoring for a First Flatiron Time Trial. Sounds good to me…
Here are some links to previous TTT's:
http://www.wwwright.com/climbing/tripreports/2002/ThirdFlatironTimeTrial.html
http://www.wwwright.com/climbing/tripreports/2002/TTT2.htm
http://www.wwwright.com/climbing/tripreports/1998/ThirdFlatSpeed.html
<![if !supportEmptyParas]> <![endif]>
| | | | | | |
| --- | --- | --- | --- | --- | --- |
| Place | Scrambler | Royal Arch Trail | East Bench | Summit | Total Time |
| 1 | | 6:30 | 15:40 | 24:00 | 36:49 (course record) |
| 2 | | ~6:00 | | | 39:03 (broke previous record) |
| 3 | | ~6:00 | | 25:45 | 39:23 |
| 4 | | 6:35 (hr: 171) | 16:53 (173) | 25:55 (174) | 40:06 (178) |
| 5 | | | | 25:50 | 41:?? |
| 6 | | 7:04 | 17:13 | 28:19 | 43:07 |
| 7 | | 6:35 | 16:53 | 27:20 | 43:49 |
| 8 | | | 17:48 | 28:05 | 44:06 |
| 9 | | | | | 44:10 |
| 10 | | | | | 44:?? |
| 11 | | | | | 48:18 |
| 12 | | | | | ? |
| 13 | | | | | 48:25 |
| 14 | | | | | 50:40 |
| 15 | | | | | 53:00 (?) |
| 16 | | | | | 55:03 |
| 17 | Galen Burrell | | | | 1:00:?? |
| 18 | Myke Komarnitsky | 7:23 | 20:05 | 38:29 | 1:10:27 |
| 19 | Mark Oveson (he did it unsupported in the morning and probably would have been around 55 minutes using the ropes. | | ~21 | ~36 | 1:11:39 |