Northwest Couloir with Homie
Saturday, March 22, 2008
Homie's photos – month 3 of the Long's Peak Project
When it comes to winter climbing on 14ers, there is no equal to Homie. Well, there might be, but I don't know them. Homie, I know. And I convinced him to join me for my third winter ascent of Long's Peak this year. We got a lackadaisical start, hiking after 6 a.m. We elected to follow a shortcut through the woods, that had a trail broken, for a ways... When you have someone as strong as Homie along, you have to take advantage of the situation. I strategically stopped to pee just as the trail ran out and Homie was left with the difficult job of breaking trail in knee-deep powder back up to the regular Longs Peak Trail.
<![if !vml]>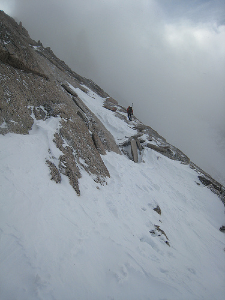 <![endif]> <![if !vml]>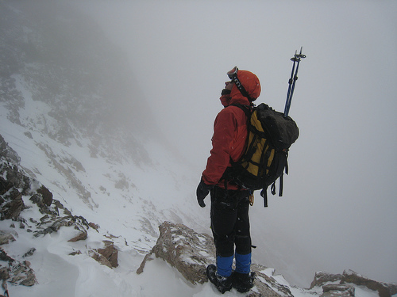 <![endif]>
Above treeline we followed the normal trail for a ways and then broke right on a more direct path up the flanks of Mt. Lady Washington. It was quite windy, but considerably less so than my previous two winter ascents and much less than my previous attempt that month, so I wasn't discouraged in the least. We continued up to the Boulder Field and then took a short break below the Keyhole to gear up before hitting the wind and technical climbing on the other side.
<![if !vml]>
<![endif]> <![if !vml]>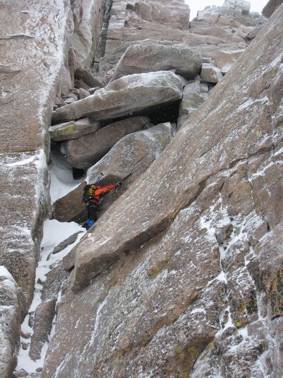 <![endif]>
After eating and drinking a bit, we put on harnesses and crampons. We climbed through the keyhole and continued along the Keyhole Route for a ways. We passed the notch/gully marking the Keyhole Ridge approach and then contoured high and passed between the wall and our left and a gendarme. On the other side we had to descend slightly before starting up the Northwest Gully.
<![if !vml]>

<![endif]><![if !vml]>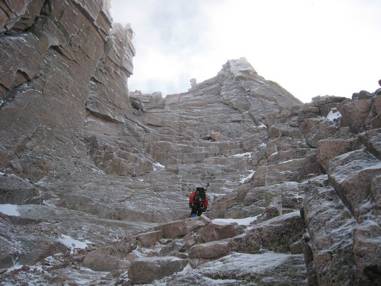 <![endif]> <![if !vml]>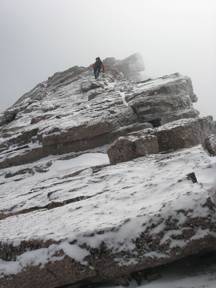 <![endif]>
<![if !vml]>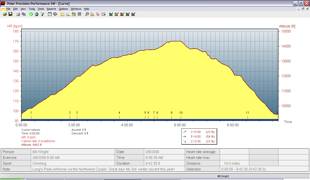 <![endif]> <![if !vml]>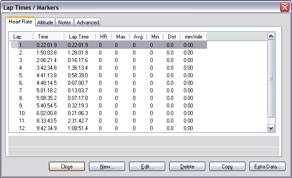 <![endif]>
Looking up this gully was intimidating. In winter conditions the climbing above us looked challenging, but it was just right. Not too hard and not too easy. We didn't have to rope up and kept moving. The climbing consisted of a series of ledges broken up by short, steep walls. While the walls could sometimes be quite difficult, they were short (less than ten feet) and we always had a ledge to relax on after each problem.
We knew the key to the route involved tunneling under a huge boulder and from a couple of hundred feet below it, we knew we'd spotted the slot. I stemmed up a cool dihedral and then reached up and hooked a fixed piton with the tip of my axe. A few moves later, I was under the boulder. I pulled out the rope I was carrying and tossed an end down to Homie. I felt the crux moves were low 5th class and in crampons and gloves, Homie might like a belay.
<![if !vml]>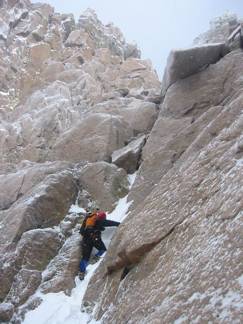 <![endif]> <![if !vml]>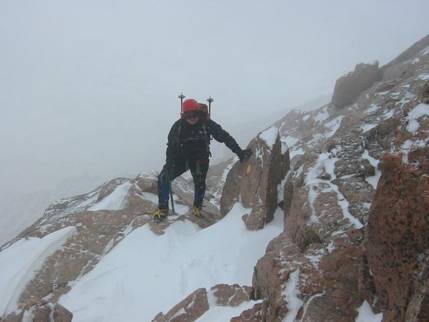 <![endif]>
Homie soon joined me under the boulder and we had to remove our packs and lay on our bellies to squirm out the other side. Above the boulder the climbing was more of the same, but easier. In a couple hundred feet we climbed a forty-foot gully/corner and were on the Keyhole Ridge. Here the angle was low, but the exposure to our right down the West Face was huge and the whole North Face sloped to our left. We were now above 14,000 feet and the going was slow, but continuous.
<![if !vml]>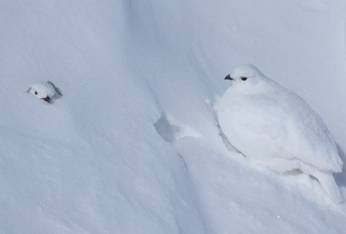 <![endif]> <![if !vml]>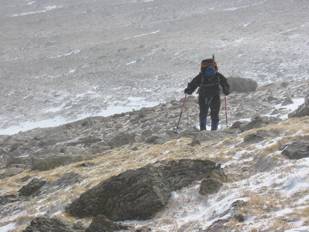 <![endif]>
I powered up the final section of the Keyhole Ridge, trying to see if I could stay ahead of Homie. What a silly game to play with your climbing partner… I just wanted to measure my fitness against his. Oh, and by "powered", I mean "inched slowly."
Our descent of the North Face went smoothly and we arrived at the top of the rappels just as a party was topping out. They were headed for the summit, but one of them was so cold and tired that he wasn't going to continue. It was at least an hour roundtrip to the summit and back. I told them that waiting that hour when you are already cold wasn't wise. As we reached the bottom of the rappels the climber above us dropped his water bottle. He yelled, "Rock!" and we looked up to see the bottle coming our direction. It veered to our left and fell over the cliff down Chasm View Wall. Goodbye water bottle… At that point the two above us headed down, foregoing the summit.
<![if !vml]>

<![endif]><![if !vml]>

<![endif]><![if !vml]>

<![endif]><![if !vml]>

<![endif]><![if !vml]>

<![endif]> <![if !vml]>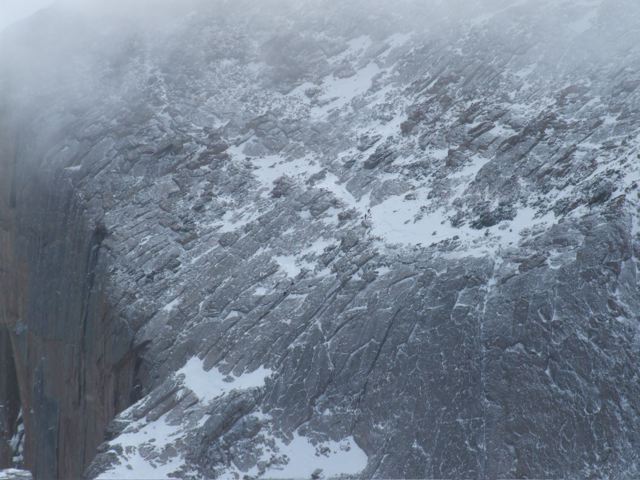 <![endif]>
Little did we know at the time, but the guy we met on the way up was over on Storm Mountain taking photos of us on the North Face. Once down in the Boulder Field, Homie and I just had a long slog out. We cut the corner across the willows instead of going to Chasm Cutoff. The roundtrip took us nine hours and forty-two minutes.
And so it goes…