Keyhole Route with Derek
Sunday, September 28, 2008
month 9 of the Long's Peak Project
<![if !vml]>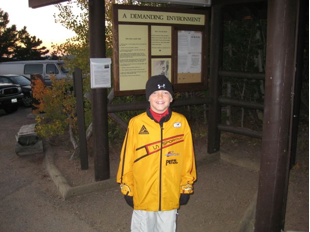 <![endif]>By far the most popular route on Longs Peak is the Keyhole Route. It is the easiest route and it is overwhelmed with hikers during the months of July and August. Outside of those months Longs is a tougher nut to crack, as snow and ice will either be lingering or starting to accumulate. I had saved this route to do with my wife and boys, but Sheri and Danny opted out for various reasons. It was just my ten-year-old son Derek and I for this ascent. I was very excited to be climbing Longs Peak with my son. It would have been a lot easier to do it in July than in late August and I had originally planned it that way, but those plans fell through. So here we were in late September.
The advantage to this time of year is that you can start relatively late and still get in the parking lot. Derek and I didnÕt start hiking until 6:52 a.m. By that time 25 people were in front of us headed for the same route. That might sound like a lot, but in July weÕd have parked a mile away and there would be 250 people in front of us. We took the lower shortcuts that Bill Briggs taught me and then took the JimÕs Grove Trail until it hit the regular Longs Peak Trail. We then followed that trail clear to the Keyhole. It was the first time IÕd been to the trail junction at Granite Pass in probably ten years. I usually take the more direct route up the slopes of Mt. Lady Washington, but the going is tougher there for a 10-year-old.
To say Derek is a stud is akin to calling Rafa Nadal a tennis player. Technically both statements are true, but they vastly understate reality. Earlier this year Derek won the 12&Under division of the Superior Mile, clocking a time of 5:43! He had early won the Stadium Stampede in a PR of 23:40 and just the last weekend won the kidÕs race in the Rattlesnake Ramble. The previous day he played starting safety on his football team, then three sets of tennis (he won the USTA 12&Under State Team Title this year), and finished up with an under-an-hour ascent of the two pitch, 5.5 Boulder Direct/Bomb route on the Wind Tower in Eldorado Canyon. This boy is busy.
Derek and I moved well up to the Keyhole Route, passing seven people en route. We took a couple of short breaks to eat on the way up and kept drinking the entire way. The weather was perfect: probably in the 50Õs with sunny skies and no wind. There were 13 people at the Keyhole and we took an extended break here to eat some more and put on more clothes for the shaded traverse to the Trough on the other side of the Keyhole. It took us about three hours to get to the Keyhole and by then we had done six of the seven miles to the summit, but now our hike became a real climb.
I was concerned that the traverse might be snowy or icy and I knew the Trough would have ice in it. To that end I brought a rope and a harness for Derek, but we didnÕt have any ice gear except for the hobnails in our shoes. These hobnails would prove to be of great use. We passed a number of parties with ice axes and were concerned until we met a party on their way down sans axes. They said it was possible to skirt most of the snow and then just be careful. We did just that.
Derek was secure and comfortable on the traverse and we passed a trio of gripped college girls here. Derek was relaxed. Later, in the Trough, the 700-foot steep gully leading to the Narrows, we passed another trio of college girls. One of these would ask me much later when Derek and I were coming down and her still going up, ÒAny advice for going down?Ó I worried that theyÕd make it down okay, but I didnÕt hear about any rescues.
<![if !vml]>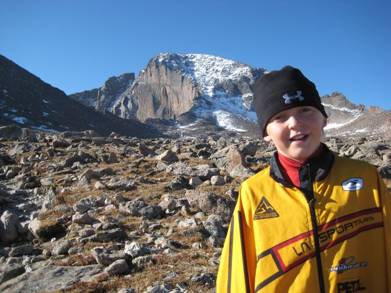 <![endif]> <![if !vml]>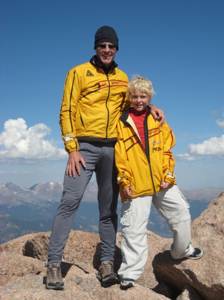 <![endif]>
At the top of the Trough Derek cranked the 4th class crux (5th class with the snow/ice). It was only 15 feet high and he was solid. I followed close behind to catch him if he slipped. To get to this crux we had to climb up steep snow, but mostly via descent footholds. Our hobnails provided the necessary traction. Once on the Narrows we took another extended break. We were out of the wind and sitting in the sun. Derek shed his jacket, being a bit too warm. We ate and drank and then continued across the exposed traverse and up the steep wall to the final section: the Homestretch.
The Homestretch is a 500-foot section of steep, 3rd class slabs. Derek was determined to break five hours for the ascent (does he take after this dad, or what?) and pushed hard here. We both stood on the summit boulder after 4 hours and 55 minutes of climbing. I had brought a video camera and filmed most of the ascent to show his mom, brother, and grandparents. We relaxed on top for 25 minutes before heading down.
The descent was a bit tricky to begin with as our hobnails didnÕt feel that great descending the slabs, but once off them they were fine. But then Derek started to develop an altitude headache and it got worse and worse. We picked up another hiker, James Rudd, who had biked up from Boulder that morning, planning on doing the duathlon. He was just 24 hours from Atlanta and the altitude, magnitude of the event, and I think some healthy intimidation with the climbing conditions convinced him to turn around. He didnÕt want to descend alone and we welcomed him into our group.
<![if !supportEmptyParas]> <![endif]>
<![if !vml]>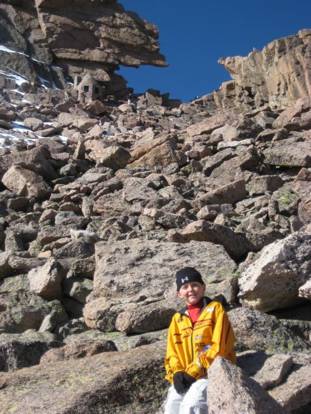 <![endif]>We took an extended break halfway across the traverse to the Keyhole because Derek was fading. He needed to eat, but his headache had spread to this stomach and he was nauseous. We rested for 15 minutes and Derek got some of JamesÕ grop down before we moved on. Later, just below the Boulder Field, James offered Derek some Advil and this did the trick. It transformed Derek back to his normal self. He sped down the trail at such a fast pace that both James and I both had to trot the occasional step to keep up. Derek is the fastest walker IÕve ever seen. I donÕt know how he does it with such short legs. Incredible turnover, I guessÉ
The roundtrip took us eight hours and 47 minutes. I had predicted ten hours and Derek was proud to have done it so fast. Unlike our other climbs, this one seemed to loom large in his mind. He knew he had done something significant. It had challenged and pushed him, but he finished strong and thirsty for more.
And so it goesÉ