The Glacier Gorge Traverse
Saturday, July 5, 2008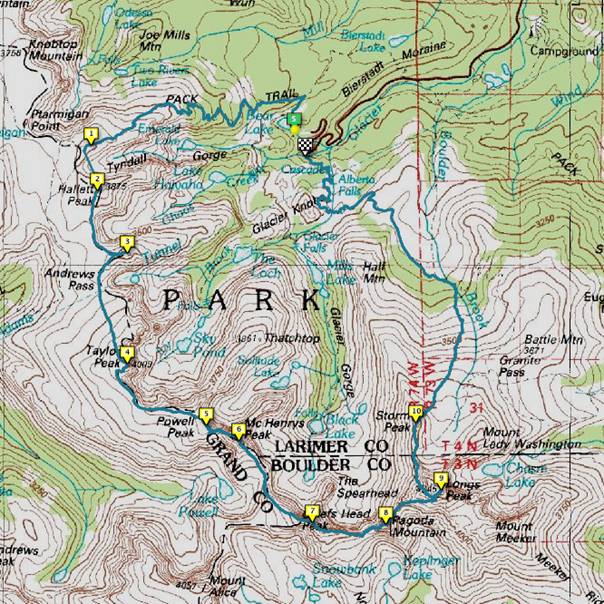 Homie's photos – Month 7 of the Longs Peak Project
"Have you done this before?"
That was the question a climber asked us as we descended our 7th peak of the day and headed for our 8th. "You've got to be kidding me," I thought. You don't do this traverse twice…
The Glacier Gorge Traverse is a complete traverse of the peaks that form the core of Rocky Mountain National Park. Jim Disney, a Park veteran, may have been the first to conceive of this linkup.  He first attempted his version of this traverse in 1966 and completed the traverse on his sixth attempt in 1982 in just under 28 hours. The traverse can be done in either direction, but the north to south version starts at the Bear Lake Trailhead and this is the direction Homie and I went.
This traverse has also been called the Park Interior Loop and the Ten Peaks Traverse because it summits, in north-to-south order, Flattop, Hallett, Otis, Taylor, Powell, McHenrys, Chiefs Head, Pagoda, Longs, and Storm. The entire loop is at least 20 miles, depending upon how you close the loop and involves over 10,000 feet of climbing, with 95% of it above 10,000 feet in elevation. Climbing Longs Peak as our ninth peak would make my July ascent quite a chore.
I picked Homie up at 3 a.m. and we were hiking by 4:30 a.m. We both felt sleepy and sluggish and I followed Homie up the Flattop trail in the dark. It was just 4.4 miles to the summit of Flattop, but 3000 feet of gain. It took us 1h48m to gain our first summit.
Here we noticed a pair of climbers ahead of us on the slopes of Hallett. We caught up to them on the summit (2h11m) and they were surprised to see us in shorts. Homie and I did the entire traverse in shorts and at least half of it in short sleeves and the other half with just a long-sleeve shirt over the top. We had quite a bit of cloud cover that shielded us from the sun, but added a bit of stress as to the intentions of those clouds. It occasionally got a bit dark and we were spit at a bit, but nothing much developed until we hit Storm.
We quickly tagged Otis (2h38m) and then had a long, easy hike across high alpine tundra and talus, always talus, to the summit of Taylor Peak (3h32m). We now had four summits in less than four hours and our goal was to keep that up through all ten peaks. We knew Chiefs Head and Pagoda would take more than an hour to do, so were glad to have 31 minutes "in the bank." More easy hiking got us to the summit of Powell Peak (4h20m). This marked the halfway point, peak-wise, but started the more technical terrain and our pace would drop considerably.
McHenrys Peak isn't very far from Powell, but there is an impressive gash separating the two. We descended down 3rd and 4th class climbing to a very cool ledge traverse that brought us to the saddle. We proceeded from here directly to the summit up a steep (5.2?) headwall with great holds, though exposed climbing. We topped McHenrys at 9:50 a.m. (5h13m)
Next up was the long traverse to Chiefs Head. We descended 3rd class scrambling and talus to a steep snowfield, which we carefully descended in our scrambling shoes and then walked across endless talus over to the couloir that led to the summit slopes of Chiefs Head. Unfortunately, those slopes were very long and the traverse between the peaks had taken nearly an hour and a half (6h38m).
Descending from Chiefs Head, we ran into five climbers coming up from the Sand Beach Lake Trailhead. When told them what we had done and what we had left to do, they asked the question at the start of this report. What they wanted to know most, and what we didn't know, was how you get up Pagoda from Chiefs Head. This is by far the technical crux of the traverse. We carried a 100-foot rope, harnesses, and five cams to negotiate this 5.7 ridge.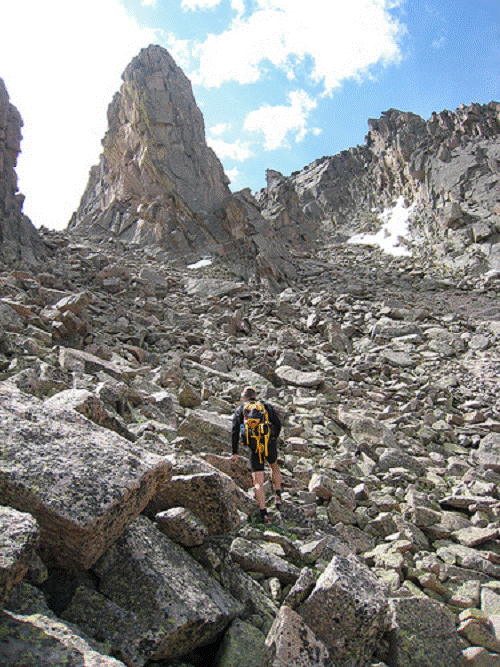 Photo 1: Twenty miles of this makes for a very tough day.
After our first sit-down break of the day at the Chiefs Head – Pagoda col, we buckled our harnesses and headed up into the only unknown (to us) section of the traverse. There were two ways to gain the summit of Pagoda from here: a big traverse to the right, followed by a big traverse back left and up a 200-foot 5.6 pitch or directly up the ridge at 5.7. I wanted the direct route, only because the traverse looked so long. I wanted the shortest way to the summit.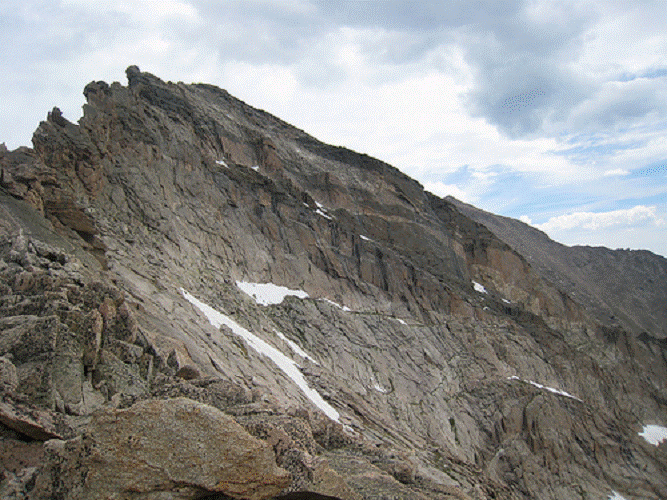 Photo 2: The technical crux: West Ridge of Pagoda
We traversed a bit on the north side of the ridge, bypassing a severe gendarme, and then climbed 200+ feet back to the ridge. The climbing here was probably 5.6 and a bit lichen-covered due to the northern exposure. Once on the ridge a huge, overhanging gendarme blocked our way, but the ledge below us offered an opportunity. We descended just 15 feet or so to a grassy ledge. This was the same ledge that formed the leftward traverse of the easy route. We had just avoided the double traverse. We headed up 300 feet of nice climbing that was probably easier than 5.6 and gained the ridge again. We unroped and scrambled just a few minutes more to the summit of Pagoda. It had taken us two hours to get from Chiefs Head to Pagoda – the most time we'd spend between peaks on the traverse (8h39m).
After packing away our climbing gear and taking another sit-down break, we moved on, slowly now as we were both fading. We descended tiring talus to the col and then climbed a thousand vertical feet to our highest summit: Longs Peak, at 14,255 feet. We dropped our packs three hundred feet below the summit, once we intersected the Keyhole Route. I lagged behind Homie on the climb up to Longs. I was really tired. We found the summit deserted (9h56m) and, while Homie signed the register, I curled up on a rock and nearly went to sleep. Two minutes later we were headed down the slabs on noodly legs. Back at the packs, I downed a carton of chocolate milk, hoping for a remarkable recovery. Unfortunately, It did not happen.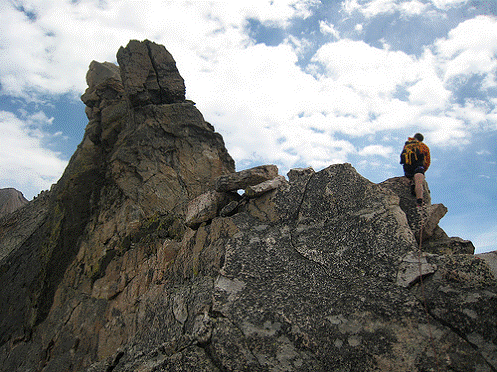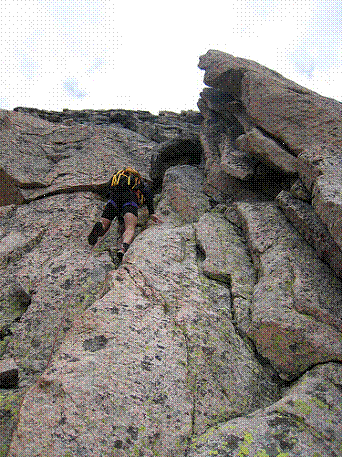 Photo 3: Climbing up Pagoda
We were both moving very slowly now, but chatting amicably. Homie is a great companion and this is essential on an adventure like this. You need a solid, capable partner, of course, but having a partner you genuinely like is infinitely more important. We stumbled down the Trough, now free of snow, and moved across the slabs back to the Keyhole. We had one peak to go, Storm, and appropriately the sky started to rumble. The sky grew dark and the thunder louder and closer. Homie wondered whether we should continue. I was too tired to worry about lightning; besides, we hadn't actually seen any. With fear goading us onward, we pushed the pace and topped the last and tenth peak of the day (11h15m).
We still had three hours of very tiring hiking left, starting with a long, tedious talus descent. The rain never hit us and we marched though the tundra and descended more than 4000 vertical feet. We headed cross country toward the North Longs Peak trail, a trail neither of us had ever been on. We slid down as much snow as we could find in a drainage before we hit the woods where we fought brutal deadfall. I was barely staying upright and fell far enough behind Homie where I lost sight of him. I almost called out and only didn't because I was too proud. I knew he had to just be heading down, hoping to hit the trail.
We soon regrouped and shortly afterwards ran into the trail. Within a half-mile we found a sign that gave us the disappointing news: Glacier Gorge Trailhead – 3.9 miles. Dang, I thought, that's a long way. Homie was still looking strong, and as we settled into our own paces he quickly disappeared from view. I wanted to stay with him, but I couldn't. I turned on my iPod and did the best I could.
Homie waited for me with two miles to go and asked, "How badly do you want to break 14 hours?" I said, "Not badly enough to go any faster." "That doesn't sound like you," he chided. Nope. It doesn't. I'm transitioning into a slower, wimpier old age. Despite this, I started trotting along with Homie. We were still moving at only 15 minutes per mile, but it was enough. The last half-mile climb up to the Bear Lake parking lot reduced me to a power hike, but Homie ran the entire way (13h56m).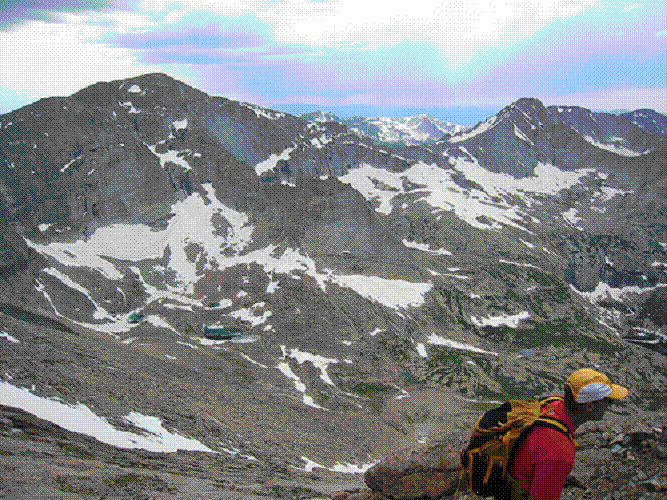 Photo 4: This is me heading up Longs peak with Chiefs Head and McHenrys Peak in the background (and the relatively diminutive Spearhead).
This day was huge, and it beat us down. We finished in just under 14 hours. My friend Eric Winkelman has also done this traverse, in around 12 hours, I think. That's impressive, but nothing compared to what Bill Briggs has done. Briggs didn't do the entire traverse, but his split times on this outing are mind-boggling. He took only 8 minutes to descend 1000 vertical feet of slick slabs, treacherous talus, and a 5.0 cliff. This is about three quarters of a mile! Homie and I took probably more than 40 minutes to climb up this terrain.
Location
Elapsed Time
Glacier Gorge TH to timberline on the North Longs Peak trail.
1:00
Granite Pass
1:19
Chasm View
2:01
Longs Summit
2:17
Saddle
2:25
Pagoda
2:57
Saddle
3:20
Chiefs Head
3:40
Stone Man
4:05
McHenry's
4:33
Saddle
4:46
Powell
4:57
Taylor
5:30
Tyndall Glacier
6:14
Emerald Lake
6:56
Glacier Gorge TH
7:17
Now you can't do a direct comparison of the time between the peaks since we were going in opposite directions, but I think the table below gives you a flavor for how fast and efficient Briggs was moving. We took almost exactly twice as much time.
| | | |
| --- | --- | --- |
| Peak-to-Peak Traverse | Bill Briggs' Time | Homie and Bill Wright's Time |
| Longs-Pagoda | 40 minutes | 1 hour 17 minutes |
| Pagoda-Chiefs Head | 43 minutes | 2 hours 1 minute |
| Chiefs Head – McHenry's | 53 minutes | 1 hour 25 minutes |
| McHenry's – Powell | 24 minutes | 53 minutes |
| Powell – Taylor | 33 minutes | 48 minutes |
| Total: Longs-Taylor | 3 hours 13 minutes | 6 hours 24 minutes |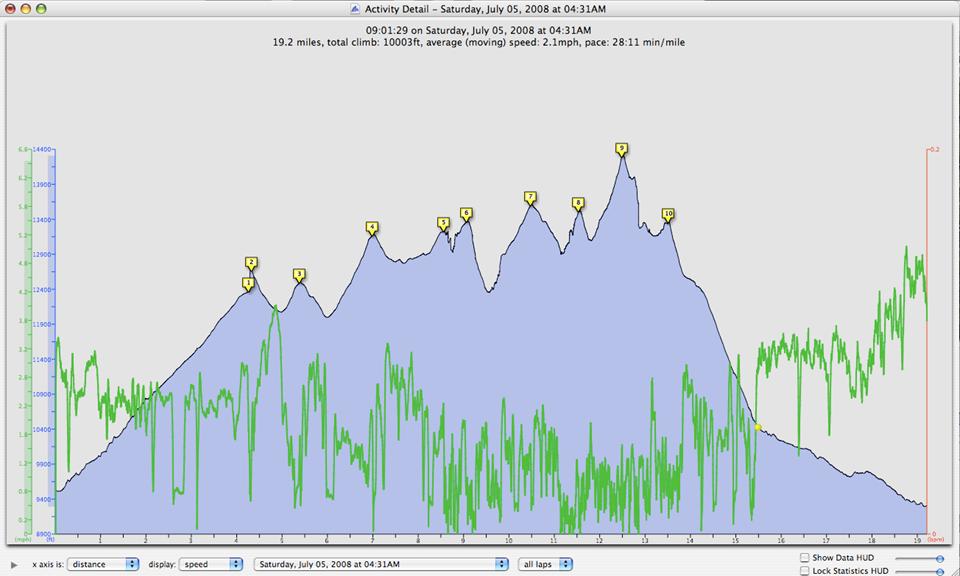 For most of our mountain outings, I have been the stronger climber, the unofficial leader, but all that has changed. It is now Homie that is the driving force in our adventures. He is the leader in the planning and almost all the time while in the mountains. I struggle to keep up and am more comfortable following in his very capable footsteps. He always picks a good route, makes good decisions, is rock solid. The day before he beat me in a 1-mile downhill mile, running 5:15. I can't even finish his 40-mile runs. His best time on Longs Peak is much faster than mine. This season has been a passing of the torch for us as a climbing/adventuring team. I now just hope to be strong enough for him to keep selecting me as a partner…
And so it goes…