Flying Dutchman with Mark Oveson
Saturday, May 24, 2008
My photos - month 5 of the Long's Peak Project
I left things a bit late this month, but this was the first weekend Mark could go and I wanted to team up with him. After my first two months of climbing Long's solo, I'm doing a better job in seeking out partners now. Mark had already climbed the Flying Dutchman couloir before and I hadn't, yet he was willing to repeat it. It would be my third new route this year. We went the Saturday of Memorial Day weekend and it didn't start well. He was picking me up at my house at 4 a.m. and when he knocked on my door I was sound asleep in my bed! Oops.
We were delayed ten minutes and Mark brushed off my profuse apologies. Thank goodness he was picking me up instead of meeting me at some neutral location. We got to the parking lot by 5:20 a.m. and were greeted by strong, cold winds. I prepared for a winter like ascent, but Mark only had spring clothing with him. Thankfully he's a pretty tough character. We both wore Sportiva Trango mountain boots with 12-point crampons. Mark carried two axes and I only one, not because of any ice prowess, but out of laziness and hopes that the couloir would be all snow. Also, in a pinch, I knew the leader would have two axes.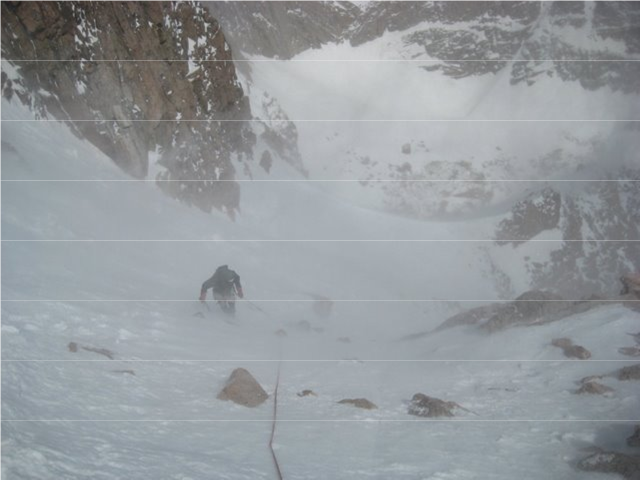 Before we even left the parking lot a guy walked out of the woods. I asked, "Quitting already?" He said, "Yes. I got up to Chasm View, but it was sustained 40-50 mph winds and it was snowing." Dang. That didn't sound good. But back from Chasm View by 5:30 a.m.? We figured he had to have bivied in the Boulder Field and got hammered by the winds all night long. Poor chap. We signed out for Long's Peak at 5:35 a.m. - the only party headed for the big one. A half-hour up the trail we met another party descending with the same story. I was already thinking that next Saturday was May 31st, so I'd have one more weekend day to get my May ascent, as things weren't looking good for today. The pair of climbers descending were pretty unprepared though. One guy didn't have gloves and was wearing running shoes (how crazy can you get!?) and cotton pants. We looked like arctic explorers compared to these two.
Above treeline the wind was indeed howling, but my winter ascents had prepared me for wind and I'd pressed on in worse conditions this year. I'd also seen the wind die once I started to traverse to the Chasm Lake and I hoped for the same today. An hour and 15 minutes into the hike, we passed a party of two that started hiking an hour before us, at least according to the register at the trailhead. How we caught them in such little time is a mystery to me. They must have waited at treeline, hoping the winds would die. They were headed for Martha, an ice gully on the flanks of Mt. Lady Washington.
We made Chasm Cutoff in 90 minutes and got to Chasm Lake in just over two hours. I plunged one foot into the lake by walking too close to the rocks at the edge. We moved out into the middle of the lake with some trepidation, but it was solid. We walked across the lake and then up to a boulder below the Flying Dutchman where we geared up. The Dutchman is a snow couloir that parallels Lamb's Slide, but it is much narrower. At the crux, the gully is only ten feet across and frequently one encounters water ice here, as we did today.
We had just a hundred feet of 9mm rope and simul-climbed the easy, but tiring snow. I placed a piece every 80 feet or so and we stopped below the crux to eat and drink. I continued leading up to the crux and finding it to be completely water ice and probably 70 degrees, I balked. Mark offered up his second tool and I accepted, hauling it up on the rope. The crux section is only about 20-25 feet long and I put in a cam near the base of the ice. I didn't have any ice screws with me and I didn't think I'd need them. I was hoping to just run out this section. The problem was the constant spindrift that tumbled over the ice. As I contemplated things the snow coming down increased in volume until it was a full-fledged showering. In just a few seconds I was shivering all over. I had to get out from under it. I climbed up the rocks on the left and waited for things to settle down.
I thought about just climbing the rocks, but it was steep and would have been scary and challenging. From my perch the ice section looked a lot friendlier and I knew I could climb it quickly if the spindrift would give me a chance. I dropped back into the couloir and raced up the ice section, envisioning myself as Mark Twight. I set my axes with a single swing and moved up quickly. The ice was hard and my crampons barely dug in. Just above, I placed two Aliens in a crack and set a belay. When Mark had climbed to the base of the ice, I lowered his second tool down to him. I was a bit concerned about Mark climbing it because his second axe was an ultra-light snow axe and not really an ice axe. Plus he was wearing light, dull aluminum crampons and they indeed gave him some trouble on this section. I kept a tight rope on him and he was soon taking over the lead up the remaining part of the couloir, which was now snow again.
Mark's comments:
I was enjoying the view from the belay, with the cold wind and the spindrift avalanches contributing to the overall Alpine feel of the day. Bill ran up the ice so quickly that I had no worries about following the pitch. Besides, I had led this pitch just a few years earlier. OK, maybe it was 12 years earlier, under sunny skies and warm temperatures, using real ice climbing gear. Upon getting my first close-up look at the ice, I realized that it could prove challenging. The day was cold, and this pitch was in the shade, so the ice was very hard and somewhat brittle. My crampons, like Bill's, were designed with horizontal front points for snow climbing, and they were quite dull to boot. I could see that I would have to rely a great deal on my axes, which meant I would put quite a bit of weight on them. I had one good technical axe, which I used with my left hand, and a snow axe for my right. I was not about to fool myself into believing that I could hang unaided from the smooth, metal shaft of my snow axe. So I arranged the sling to function something like that of a technical axe, allowing me to hold the axe over my head and hang in the sling from my wrist.

Even now I felt nervous engaging the ice, but the axe placements held. It had been years since I had climbed water ice, and I was re-learning as I went. My crampons were not to be trusted, so I stepped up weighting them only as much as necessary, then carefully placed one axe at a time higher in the ice flow. This of course meant I was putting a lot of weight on the axes, and like a newbie I was squeezing the shafts for all I was worth. Long before I reached the top of the pitch, the cold shafts had numbed my hands. Adding to the drama, waves of spindrift continued to whoosh past every few seconds, forcing me to stop and duck my head until I could again see to place my axes. Like so many other things in the mountains, spindrift is easier to admire from a distance than to experience firsthand.
At the top of the Flying Dutchman we stopped to eat and drink and I finally found my camera. After snapping a couple of shots we moved on up to the Loft and fought the strong winds across it and down the other side to the Clark's Arrow Traverse. At the low point I convinced Mark to leave our packs behind and go light to the summit for the remaining thousand vertical feet. I stuffed a water bottle inside my shell and we were off, sans crampons. This latter choice was a mistake, as the snow was rock hard and I could barely kick a step to stand on. I didn't discover this condition until I was hundreds of feet above our packs and dreaded the descent to retrieve the crampons. I pressed on under dangerous conditions, once again my laziness knows no bounds.
Mark found some softer snow on the left, but it remained dicey climbing clear to the summit. We dreaded the descent, but would worry about that later. I topped out after 6h32m and Mark wasn't far behind. We signed the register, ate, drank the entire water bottle and started down around 12:30 p.m., seven hours after starting. The descent back to the packs wasn't as bad as I had anticipated and I could do most of it facing out and digging in my heels to the steps I had kicked. Two sections had to be downclimbed by facing in, but we were careful and 30 minutes later we were back at the packs.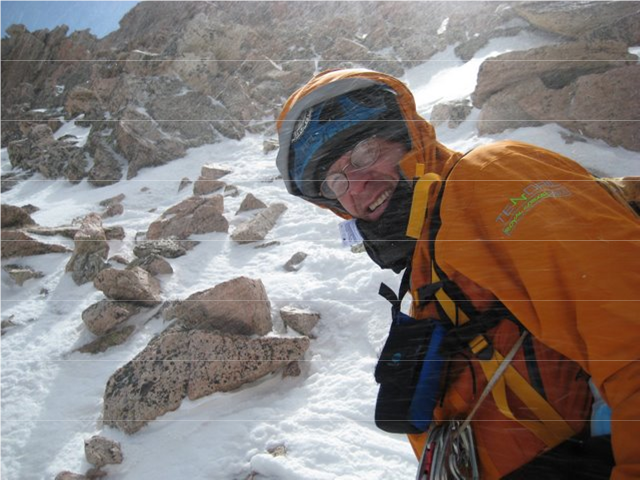 We climbed back up to the Loft and then descended more very hard, very exciting snow with much exposure on the traverse around the Loft's cliffband. We really should have put the crampons back on here as well, but didn't. I was pretty comfortable on this stuff by now, but Mark balked a bit on this section. He was careful and went into what he called "auto pilot", carefully placing each foot and making it secure before moving his axe and planting it firmly.
Once we gained the Loft couloir things were great, though. We sat on our butts and glissade most of the way down to the ranger cabin. What a treat that was, moving by sitting down. The weather improved considerably and we stripped off multiple layers for the hike out, which went smoothly. We did the descent in just 3h20m and the roundtrip in 10h16m.
Mark's comments:
As we descended the hard snow slope, Bill cut to the right. I could see that it was an effort for him to kick steps, and I thought I could find softer snow if I descended directly before moving right. The snow was at least 50 degrees, and probably steeper, and just soft enough that two or three kicks provided a solid foothold. The slope bottomed out over a cliff band. A fall here would result in a serious deduction for style points. Perhaps 50 feet down the slope I could make out the rocks that define the easy descent ledge that appears in late summer. I thought if I could reach those rocks, perhaps I could use them as footholds and not have to kick steps at all. But as I neared the rocks, the snow layer became thinner, and I began having trouble finding placements for the full length of the axe shaft. I experienced just a tiny taste of fear, pushed it down, and switched off cognitive reasoning. I was not going to fall unless I made a bad mistake, so my world became centered on not making mistakes. I moved back up to deeper snow, then began a methodical traverse to meet Bill's tracks. Bill kindly climbed back up a bit to meet me and to kick his steps a bit deeper. Five minutes later I was past the danger and enjoying the mild euphoria of safe passage. The world-famous Loft Glissade was still ahead of us, so I decided to leave cognitive reasoning turned off until we reached the bottom of that slope.
This was my first day in the mountains since my surgery in November, and it was an ambitious outing, so I had very little room for error. I packed light, and on the clothing front it very nearly turned out to be too light. I was careful about packing the right kind of food and plenty of fluids, knowing that getting even a little bit dehydrated would be a huge mistake. Most important, I knew that Bill would take up the slack, and that he certainly did--carrying both rope and rack all day, staying in front and finding the route through the tricky area between the Loft and the Homestretch, and leading the ice pitch. I was the client on this outing, just along for the ride, and my only goals were to reach the summit and not to be a liability. I achieved the first of those goals, and probably the second by a narrow margin.
Five down, seven to go. Almost halfway there. I'd love to get a Diamond ascent in next month, but we'll see. I need to find another great partner. These last three months have been a treat.