Casual Route with Stefan
Saturday, June 21, 2008
My photos Š Month 6 of the Longs Peak Project
It was time to up the technical difficulty of my Longs Peak ascents and the weather forecast made a Diamond attempt seem reasonable. Nearly anything can seem reasonable with the right partner and going with Stefan is that way. The last time I climbed the Casual Route was when he and I did the Longs Peak Triathlon. On that ascent he had done the bulk of the leading so on this ascent our plan was the switch pitches. This, despite the fact that I hadnÕt climbed but a handful of technical pitches outside all year and hadnÕt climbed anything hard since ending my gym workouts in April.
Stefan wanted to be back in town by 3 p.m. so we met in north Boulder at 2 a.m. and hoped to be fast. I had never climbed the Diamond in June before. That is usually a bit early and this was a big snow year. I was last at the base of the East Face on May 31st and the Diamond looked too dry, except for the few ledges that existed up there, but the North Chimney approach was still quite snowy. I was hoping that three more weeks of warm temperatures had solved that problem.
We started hiking just past 3 a.m. and were surprised to see so many parties heading for Longs. When we drove away later that day we saw cars parked well down the road. Despite the Keyhole Route still being technical (requiring an ice axe and crampons) it seems the Longs Peak season has started. As I signed in I noticed that no other parties were headed for the Diamond and indeed weÕd have the face to ourselves all day.
We were traveling relatively light. We carried a single 60-meter 9.3 mm lead line, a double rack of cams from red Alien size to yellow Camalot, a single #3 Camalot (which IÕm convinced isnÕt necessary for the Casual Route), a couple smaller cams, a set of stoppers, and 12 slings/quickdraws. We both wore running shoes, mine with hobnails in them. The hobnails worked perfectly for the hard snow weÕd see on the approach, but they werenÕt sufficient for the steep sections approaching the North Chimney and, we feared, the North Face descent. So, we both carried a light pair of aluminum Kahtoola crampons. Neither of us carried an ice axe, not wanting to haul it up the face.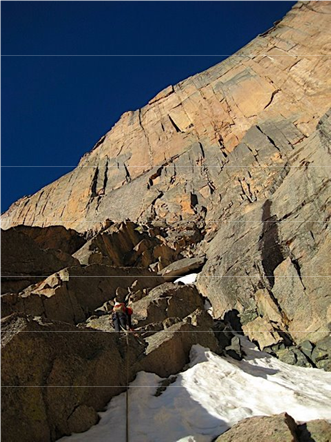 I wore a pair of black Scholler pants, a short-sleeve shirt and a long-sleeve over the top. Our weather was so good that I never put on anything else or shed the long-sleeve shirt until less than 30 minutes from the car on the hike out. I carried a hat and gloves and used them both in the snowy sections. I carried a Gortex shell, as well. Stefan had 100 ounces of liquid and I 70 ounces. We both were empty by the summit and hiked out thirsty.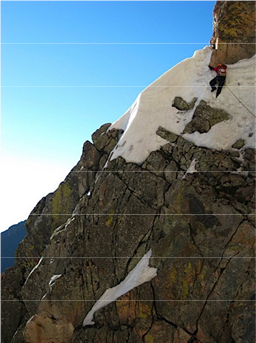 We passed a number of climbing parties on the approach. Teams were climbing the Keyhole, North Face, LambÕs Slide to ClarkÕs Arrow, KienerÕs, and the Notch Couloir. We hiked the talus around Chasm Lake. The surface was still semi-solid but IÕm sure it wouldnÕt support body weight. On the far side we were soon on very hard snow. Stefan had to put on his Kahtoola crampons immediately, but I was able to hike to just below the North Chimney before putting on my spikes.
Once we gained the rock slabs of the North Chimney we switched to climbing shoes and roped up. We simul-climbed the entire North Chimney in one pitch on our doubled lead rope. Stefan led and I followed. Stefan had to bridge one snow section down low and then climb a very steep, very hard snow section to get to Broadway. This final part had steps already kicked in it and Stefan followed very carefully in his rock shoes. On Broadway we took our first break of the day. It was now just 7 a.m.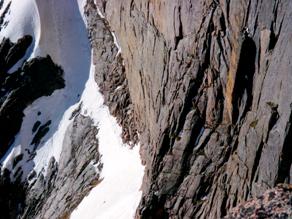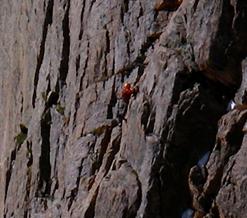 Climbing the first pitch
After a sandwich and a little rest, I started up the first pitch of the Casual Route. We each wore our packs on our back. In mine was my extra clothes, shoes, crampons, food, water, camera, etc. It shouldnÕt have weighed that much, but together with the rack this seemed like quite a load. I was apprehensive about this lead. I hadnÕt climbed in so long and now I was setting off to simul-climb a 350-foot pitch starting at 13,000 feet with a pack on my back. The first hundred and fifty feet are easy climbing and I didnÕt place any gear besides clipping a bolt. I clipped the anchor at the top of the first pitch and moved on. The climbing difficulty increased to 5.7 and then twenty feet of 5.9 finger crack got me to the start of the traverse. I moved left and up for a hundred feet of or so, running it out due to lack of protection. I got to the corner system and started up the crack. The crack soon turned into a nasty offwidth slot. This proved a bit challenging with the pack on my back, but the crack was too narrow to get inside anyway. A couple of grunt moves later and I was above it. I continued up until I found a stance and set up a belay from a couple of stoppers. I backed it up with a #3 Camalot, but would pull it for Stefan to take on the next lead.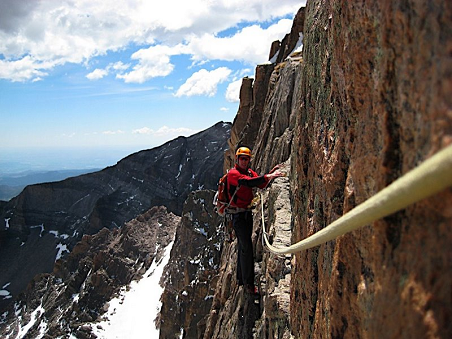 Stefan followed without difficulty. He was nearly at the 5.9 section before I set up belay. We were employing the same strategy we had last time of climbing the 7-pitch route in just four pitches. Stefan took off on the next section, a long, steep dihedral rated 5.8, but it always feels harder. Today it was even more difficult as one section was completely covered by a snow mushroom. Stefan had to yard on a piece to gain a wet slab and then climb on top of the 6-foot tall mushroom by kicking steps in the vertical snow while digging his arms into the top. When his feet gave way he thought he was going for a ride, but his arms held. The identical stress befell me when I followed. Once on top of the mushroom we both crawled across it to regain the crack in the corner. As Stefan put it: full value climbing.
StefanÕs pitch up to the first ledge on the route was 250 feet long. I simul-climbed nearly up to the mushroom before he had me on belay. By the time I arrived on the ledge it was time for a quick breather to drink and re-rack. The weather was perfect. We were still in the sun and very comfortable. I knew there was one last hard pitch for me to lead: the crux of the route. It was 180 feet to Table Ledge and involved three tough sections: a very technical finger/stemming section, a physical, runout squeeze chimney, and the steep, marginal jamming finish.
Forty feet of moderate climbing put me at the start of the 5.9+ finger section. I stemmed up a bit, clipped a pin, inched upwards and placed a small cam. I strained to reach the next fixed pin, clipped it, and pulled on the draw to reach the large holds ending this section. The crack was a bit wet here and very slippery. Normally I wouldnÕt have tainted my ascent so quickly, put we had already pulled on a piece at the snow mushroom and I was fully into alpine mode, where anything goes to move quickly.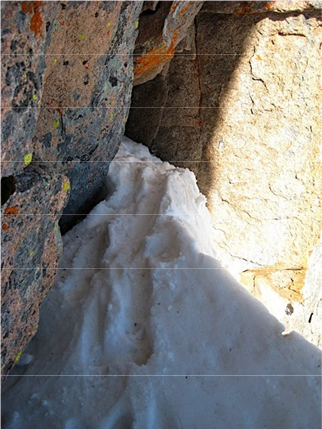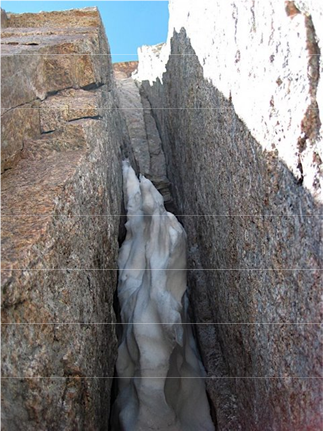 The photo on the left above is the snow mushroom. Getting on top of this was scary and desperate. The photo on the right shows the snow/ice block in the chimney on the crux pitch. This block prevented us from burrowing into the back where the climbing is easier and protection available.
I was now at the base of the chimney and I didnÕt like what I saw. Inside the chimney was a giant snow/ice block, preventing me from burrowing into the back where some holds facilitated passage up the chimney. Instead, IÕd have to squeeze up at the very lip of the chimney, at least until I could get above the snow. I stripped off my pack, helmet, and strung the gear below me in order to fit into the chimney. The next 15 minutes or so were hell. I was afraid and that didnÕt help my wide-crack technique. I thrashed and contorted, alternately moving upwards and then sliding back. I tried to grab the snow block for a handhold and the entire block shifted towards me. I thought it was going to fall out of the chimney, crushing me on its way down to crash on top of Stefan. The block settled and I struggled some more. My left foot was outside the crack, pushing against an edge that allowed a bit more leverage, but once I got about that edge, it was pure squeeze climbing. I was hyperventilating as I finally inched above the snow block and started to burrow into the back, an inch at a time. The snow block was tempting to try and stand on it and I pushed down with one foot, hoping to propel myself into the back, when it broke through the snow. Yikes! I finally reached the back of the chimney and gained a slightly better purchase for moving upwards. Eventually I arrived at the flake near the top of the chimney and finally placed a piece of protection. I let out a yell of relief, while still in the chimney and still below the crux.
Once free of the chimney I saw the crux above me. I just wanted this lead to be over. I moved up to a fixed stopper, clipped it, and pulled on it, hard. Stemming my feet, I placed a #2 Camalot in the crux hand-jam slot. I figured to have a better chance pulling on the cam than jamming the crack. I did so, and moved up again, grabbing some good holds and pulling myself finally onto a descent foothold. I placed another piece and then climbed the remaining twenty feet to Table Ledge, which is only a stance at this point on the face. I clipped the single fixed pin and backed it up with four more pieces of gear before calling off belay.
When Stefan got to the chimney he pulled off his pack as well and I hauled them both up, using a Munter hitch so that I wouldnÕt drop the 40-pound load. Stefan had better luck in the chimney, preferring to use technique and skill to my panicked, spastic gyrations. It looked good. I vowed to try that next time. Stefan led the 5.8 traverse left to gain the real Table Ledge, where we unroped. Following this traverse I realized how tired I was and how far gone my arms were. It turns out that ultra-running isnÕt ideal training for 5.10 climbing at 14,000 feet. It has taken us five hours to climb the Diamond, which was a bit slower than we wanted. It was now past noon and we wanted to be starting down from the summit by then.
We packed up the rope and gear and switched back to our approach shoes. We were able to stay almost entirely on rock while ascending the final few hundred vertical feet of KienerÕs Route. Below us was a party coming up KienerÕs. On the summit we found about ten people, including two rangers wearing crampons on their boots, having just come up the Keyhole Route. We signed the register and Stefan called home, saying he was going to be a bit late. It took us 9 hours and 45 minutes to reach the summit and we didnÕt stay long, maybe five minutes.
We descended the North Face and found the snow sections above the rappels to be relatively soft snow with steps already kicked. This made descending a lot safer and we were able to get by without an ice axe. We met a party at the top of the rappels. They had just climbed the Notch Couloir. We passed these guys at the far side of Chasm Lake on the approach early that morning.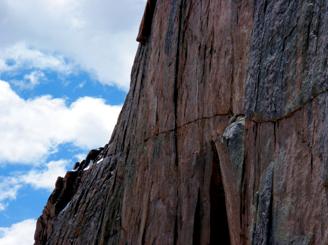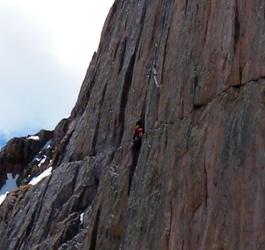 At the top of the crux pitch.
Once down from the rappels we hiked out using all the usual climber shortcuts, including the JimÕs Grove trail. We arrived back at the trailhead 12h10m after starting. I believe this was my fastest roundtrip time for an unsupported Diamond ascent (this doesnÕt count our triathlon Diamond ascent where we had tons of support). It was my seventh ascent of Longs this year and my seventh ascent of the Diamond, keeping my record of never failing on the Diamond intact. I now have six months done in my Longs Peak Project. IÕm halfway there and still have four relatively easy routes left to do: Keyhole, Keyhole Ridge, KeplingerÕs Couloir, and the North Face. IÕm saving the latter for my December ascent, since it is the easiest way up Longs Peak in winter.
And so it goesÉ