Alexander's Chimney to Kiener's Route with Ben Hoyt
Sunday, November 9, 2008
month 11 of the Longs Peak Project
A decade or more ago, in December, I tried to climb Alexander's Chimney. The snow on Lamb's Slide was up to mid-thigh and temperatures were 20 below. It took us six hours to approach the route. We managed one pitch before our hands were too cold to climb and we rapped off. And we still hiked out in the dark. Since then I heard it was better to do this route in the fall while the approach was easier, and the days longer and warmer. It also helps to bring a really strong partner...enter Ben Hoyt.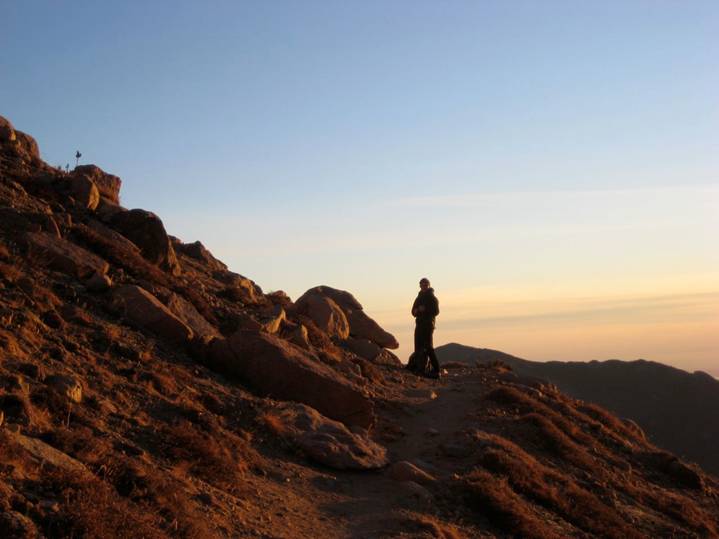 I climbed the Dove with Ben last month and he was game for another go on a technical route neither of us had done. Most parties climb Alexander's and then descend via rappel or Lamb's Slide, but of course I had to go to the summit. That's a much bigger deal. Fortunately, we had great weather. This year has been a lucky one in regards to the weather, but for a project like mine, you need luck.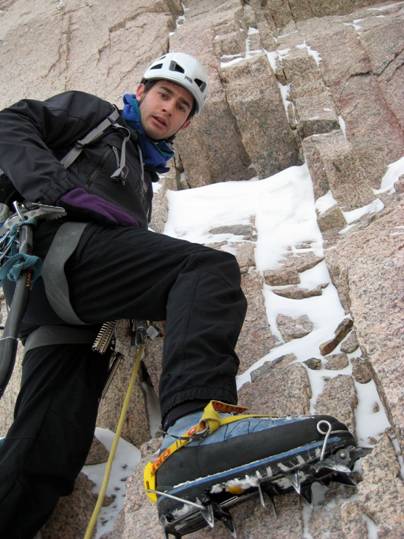 We left the Longs Peak parking lot a little after 5 a.m. We each carried two tools and crampons. I carried my 9.3mm 60-meter rope and Ben carried our rack of screws and rock gear. At 7:15 a.m. we were at Chasm Lake. The surface didn't look solid enough to support our weight, so we went around on the talus. We geared up at the base of Lamb's Slide and then Ben led us up this 45-degree snow slope to the base of the route, where we regrouped.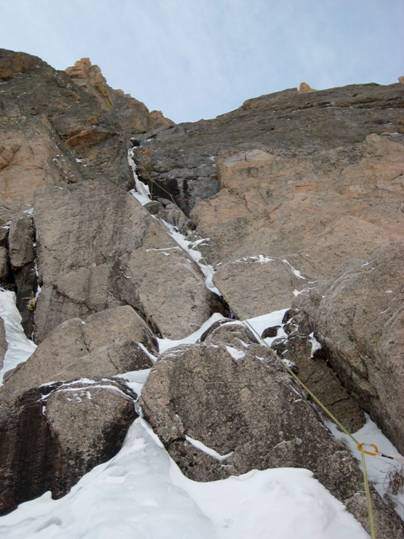 Ben took the first lead and stretched the rope for 1.5 pitches. The first section was steep, blocky climbing on rocks and then lower-angled terrain led up to some ice climbing and a small respite before the crux. The next twenty feet are nearly vertical and the ice was 3-6" wide the entire way. Following, I was very intimidated to climb this even with a tight toprope. Thankfully no tool swinging was necessary and nice hooking placements could be found. Still the steep angle and sustained nature had me at my limit until pulling over the top. Ben found it casual, saying, "the pro was so good." Granted it might have been, but letting go to place it would have been extremely difficult for me.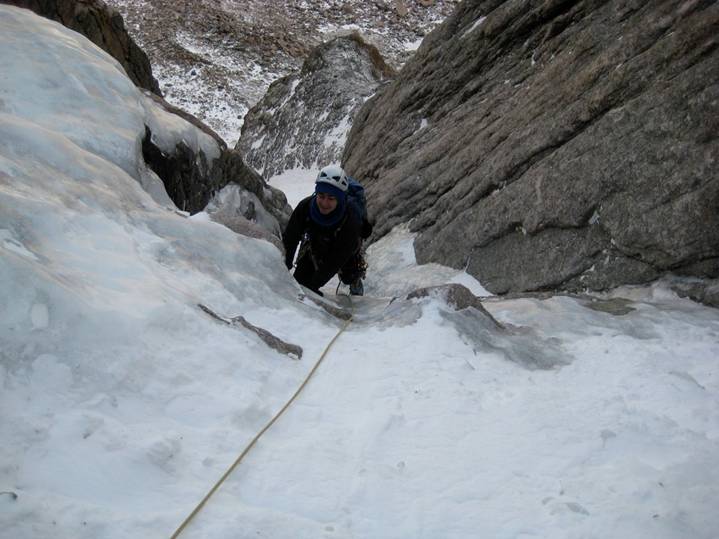 I took the next lead and it was just my style: low-angled ice. I'm a demon on ice that isn't steep, ice that can basically be climbed without placing gear. Actually, I'm not that great, just vastly less incompetent than on steep ice. I stretched out most of the rope and placed a few screws before setting up a belay just below the chockstone. Here the route either heads up directly, under the chockstone, or goes right for two hundred feet on a tiny ledge system. When Ben joined me, we decided to follow the ledge system as it didn't look like the ice was in enough to continue directly upwards.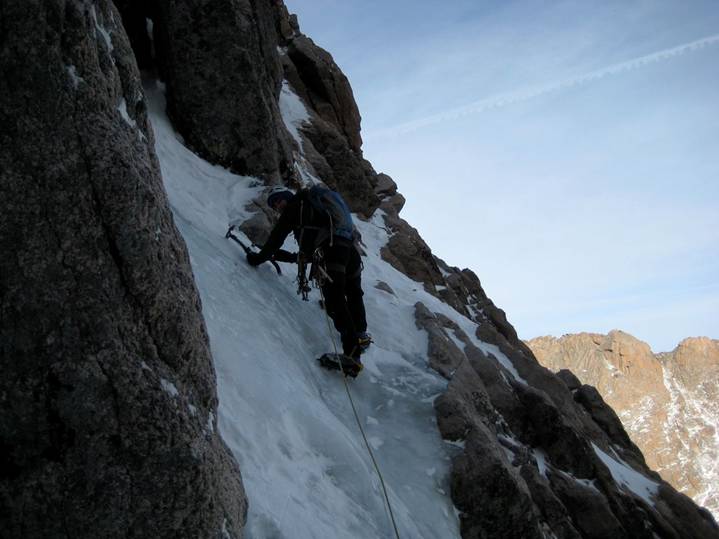 Ben started the traverse with some ice climbing and then it was all rock climbing along a ledge that started about a foot wide and decreased down to just a few inches. I found the going pretty easy except for one section that bulged out a bit. I couldn't find any secure hooks for my tools or holds for my hands. The rope stretched to my right for twenty or thirty feet to the next placement. A fall here would be terrifying, as I'd pendulumed across the steep wall below, no doubt screaming the entire way. I took my time and avoided the plunge.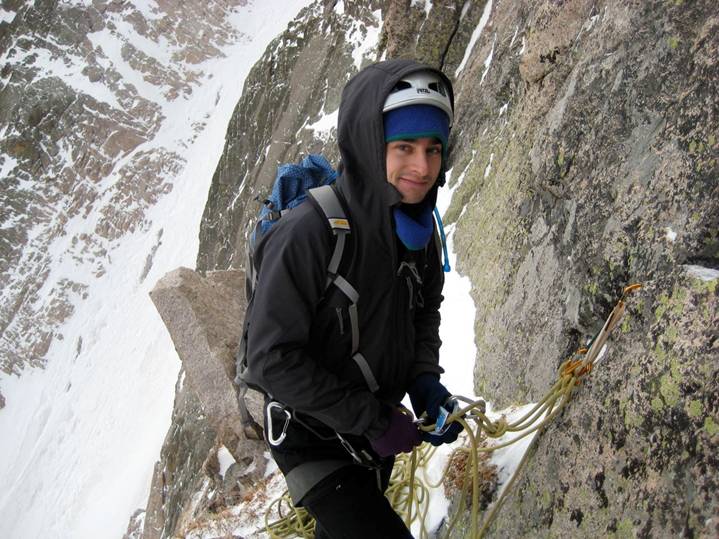 I had the next lead and I continued the traverse a bit further and then headed up a corner system. This was steep, 5.5 rock climbing in summer, but a smear on wall is not possible with crampons. Since I was "alpine climbing" I didn't hesitate to pull on the draw I clipped to the fixed pin. Once past that section more steep, physical climbing led up to a ledge system that I followed back to the left. I did a mini-tension traverse at one point by holding onto a cam I had placed so that I could stretch far to the left. After running out most of the rope I set up a belay about forty feet below Broadway.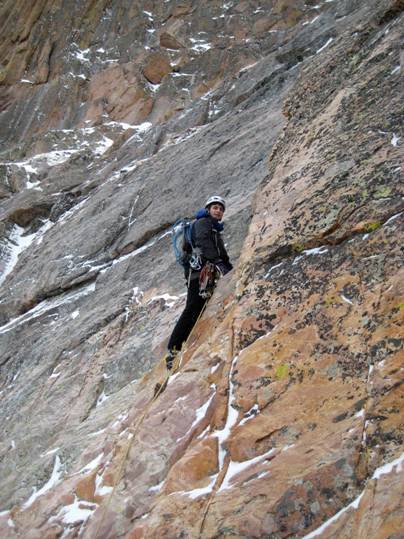 Ben followed and then had to deal with the remaining forty feet. A steep corner above me had a fixed pin in it and I thought it might be reasonable with an aid more or two. Ben decided on a slightly lower-angled corner system a bit to the left. This pure rock corner proved to be challenging and Ben took 45 minutes to ascend it, all the while saying, "I think just one more move and I've got it." I finally prodded him to use a tension traverse to swing out to the left and a little while later, I was on belay. I followed grabbing every piece and using all the tricks in my bag.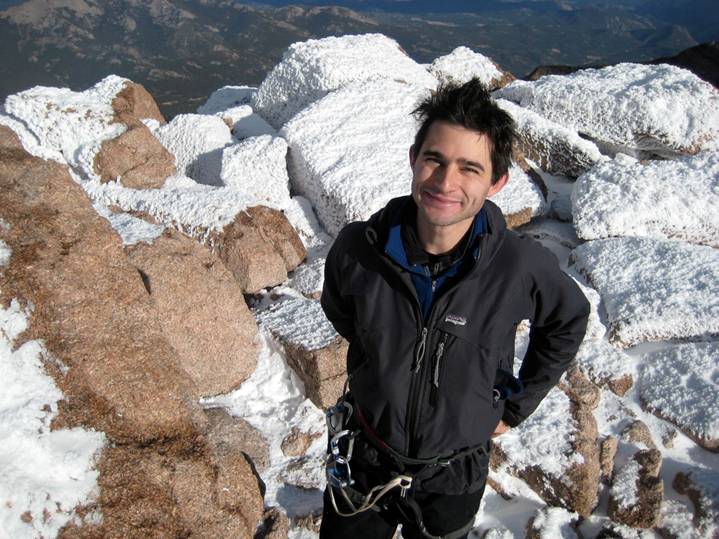 I led across Broadway while Ben simul-climbed behind. I got us to the base of Kiener's Route. Ben had never done this route before either, so I gave him directions and up he went. I took the next lead and got us to easy ground. We unroped, coiled, and stowed the rack. The remaining 800 vertical feet were the usual struggle, but we moved pretty well. On the summit we found very cool rim ice.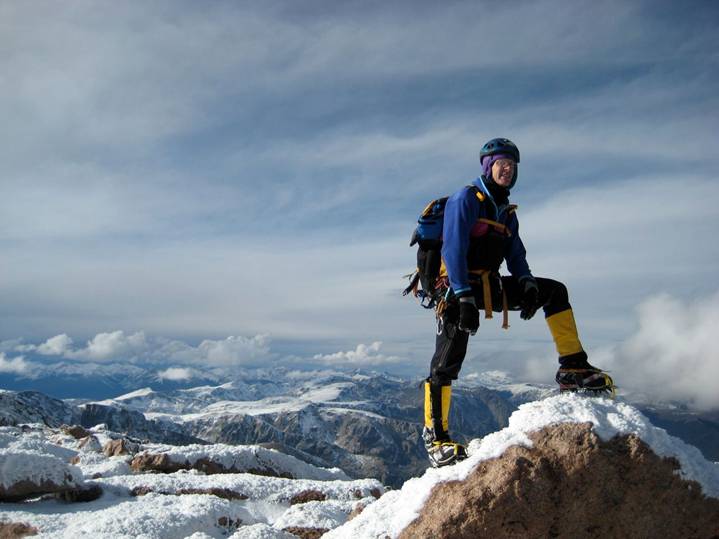 I led us down the very familiar north face to the Cable rappel. Once off the rope, we were able to glissade a good ways down before picking our way down the talus to the trail. We took the Jim's Grove descent trail once we got down to it (standard descent for me). We got down through the first shortcut before total darkness forced us to stop and dig out the headlamps. Thirty or forty minutes later we were at Ben's van and heading for Boulder. Eleven months down.
And so it goes...