Skiing the Third Flatiron
All Skiing Adventures
January 10, 2007
Boulder Daily Camera article here.
I got this idea while skiing some laps on the NCAR Mesa with Mark Oveson and Rick Accomazzo. We'd received two major snowstorms and just about everything was skiable around Boulder. From NCAR I could see right into the 1911 Gully up on the Third Flatiron and it was filled with snow. Now the name of this route is a bit of misnomer. Thegully is a few hundred feet long, but the bottom of it is about 150 feet off the ground, guarded by a cliff that can be climbed at around 5.6.
The 1911 Gully is actually a climbing route on the Third Flatiron, rated 5.6. The route starts with a couple of short pitches to access the gully itself, which is quite brushy most of the season. After scrambling up this gully, you encounter rock again and a hundred feet of steep slabs leads into a 200-foot 5.5 chimney, which ends right at the top of the Southwest Chimney (5.2), which climbs the other, west, side of the Third Flatiron.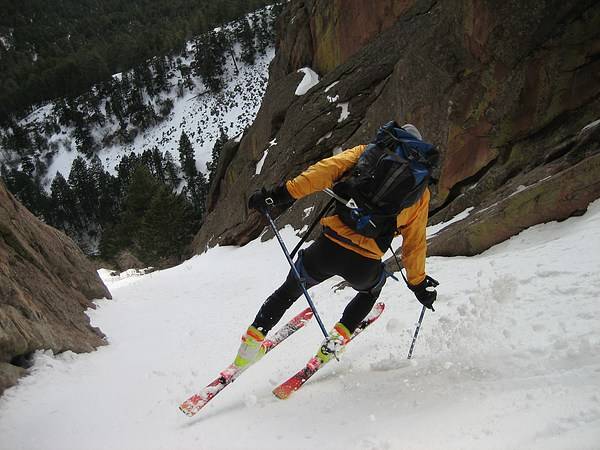 My plan was to hike around the back of the Third Flatiron, climb up the Southwest Chimney and then rappel down into the 1911 gully, ski it, and rappel out the bottom. Five people signed up for this adventure when I scheduled it a week ago, but a third major storm hit and only Stefan showed up. That day we went skiing up on Flagstaff (below the lit star on the mountain) instead, but today Stefan and I carried out this plan.
We met at 6 a.m. and were hiking up the trail in our screw-bottom shoes by 6:15 via headlamp. Things went easily up the Royal Arch trail and then up behind the Third Flatiron in a trail I broke this past weekend. We didn't move particularly fast since we were carrying alpine skis (though mine were only 145cm long to Stefan's 175cm skis), poles, boots, ice axe, climbing harnesses, two 60-meter ropes, small rack of climbing gear, slings, water, etc. The only thing missing that we wish we had brought: helmets. This was a dangerous mistake that we would seriously regret.
On the approach there is a slabby section that proved to be quite difficult in screw-bottom shoes. These shoes are great for moving on icy trails, but they aren't ideal for slabby rock climbing. The shoes did better on the much steeper, though juggy, Southwest Chimney and we soloed this route with our packs on. At the top of the chimney, we dropped our packs and soloed up the steep slab above to the giant eye-bolt anchor. The climbing here isn't that hard, but a fall would have sent us tumbling down the 1911 Gully's chimney. We tied our two ropes together so that we could rappel a full 200 feet, thinking that should get us down to the skiing. This was wrong. I changed into my skis boots (probably best down in the gully) and rappelled first. The chimney was iced up pretty well and would have made an exciting mixed climb. Near the end of my rope, I knew I was at least a hundred feet short of touching down in the snow. This was disappointing to say the least.
I put in all the cams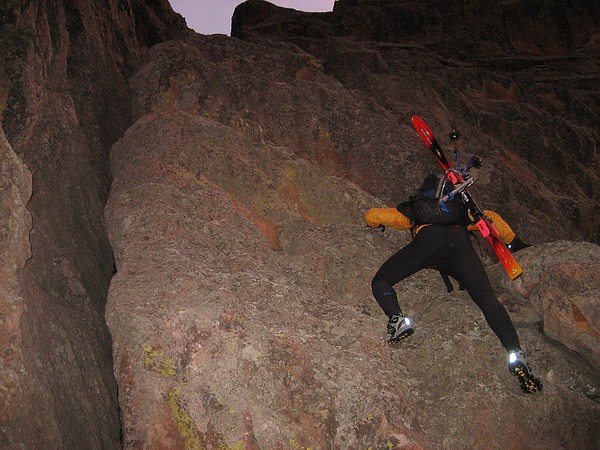 I was carrying (three) and made a bomber anchor. After clipping myself in, I took myself off belay and yelled up to Stefan to be careful. I was now directly in the line of fire for anything Stefan knocked down. I took off my pack and used it as a shield to block the ice that Stefan, despite being very careful, kicked off. Luckily nothing big hit me and I was uninjured by the time he arrived. He went first on the next rappel and a hundred feet later he was stomping out a platform at the top of the gully. We had to leave behind the anchor (about $300 worth of gear), but I plan to return as soon as I can find a partner to go with me and retrieve it.
The gully itself was filled with snow and it was actually in pretty good condition. This gully receives almost no sunlight and snow remained pretty soft. There was a bunch of ice in the middle, but I suspect this was from ice falling out of the chimney above. In fact, the amount of ice above us worried us, as occasional some of it came down. The sun was hitting the ice above and eventually it some of it would come our way. The morning was surprisingly warm, probably 45+ degrees up there.
Stefan gave me first tracks and I headed down, mainly with jump turns. It wasn't that steep up here, but it wasn't champagne powder either and I was aware that a 200-foot cliff existed at the bottom of the gully. We had talked about skiing this on belay, but the angle wasn't steep enough that we thought we'd fall and even if we did the snow was soft enough where we figured we could stop ourselves. I'd love to say that the skiing was exquisite. It wasn't, but it was fun and quite reasonable backcountry skiing. I skied down to where the gully narrowed and a couple of trees grew and stopped to watch Stefan descend.
Once Stefan joined me, we slideslipped down a tight section and then did a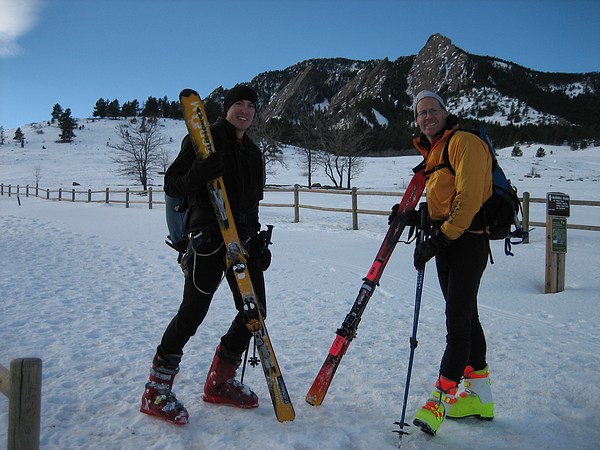 few more turns down to a big tree at the edge of the cliff. We put a sling around this tree and did a single-rope rappel down to another tree with an existing rappel anchor. One more single-rope rappel and we were on the ground. We donned our skis once more and did some absolutely ridiculous skiing down in the woods to the Royal Arch trail. The skiing here consisted mainly of sidestepping over rocks and bushes, but eventually I could traverse into an open section and glide down to the trail, hucking myself off a huge (about 1-2 feet high) cliff. From there we skied the trail (singletrack) back out to the wider trail. At one tight section with a couple of exposed rocks, I ran into one rock and pitched forward into a hefty tree. I wasn't damaged and we continued without mishap down to the car.
This was a really fun, totally ridiculous outing. The roundtrip took us about 3.5 hours.