Keplinger's Couloir
October 21, 2001
The incomparable Bill Briggs is climbing Longs Peak (14,255 feet) every month of this year – each time by a different route. Even before I heard about Bill's quest, I had a desire to climb Longs in every month of the year – just not all in the same year. So far, I'd climbed Longs in January, February, and May through September. Bill kindly invited me along on his October ascent via the Keplinger Couloir, but because of commitments on Saturday, I couldn't join him. Instead, Homie agreed to join me for a Sunday ascent.
While we lacked Bill's company and experience, we had the complete information on the route conditions. Bill called me when he returned to Boulder on Saturday and, while he lamented the length of this route, said conditions were good. The Keplinger Couloir was the route used to first ascend Longs. It starts from the Wild Basin area at 8300 feet. This is about two miles longer and a thousand feet more climbing than the normal Keyhole Route.
Bill and his friend (I don't know his name) started hiking at 6:30 a.m. and took only an hour and five minutes to cover the 1900 vertical feet and five miles into Sandbeach Lake – running the entire way. The trail ends at this lake and they had to bushwhack through the forest to tree line. They only wore running shoes (and gaiters), but the snow was only ankle deep. Still, it took them a frustrating hour to break free of the snow and trees. The couloir loomed directly ahead and surprisingly snow-free. They climbed steadily to the summit, reaching it 4.5 hours after setting out.
After only five minutes on the summit, they descended back the way they came, but only to a route called Clark's Arrow, which they followed up to the Loft – the saddle between Longs and Mt. Meeker (13,911 feet). Dissatisfied with their ascent route, they elected to climb up and over Mt. Meeker and descend its southeast ridge. This took 3.5 hours and they were back at the car eight hours after leaving.
Bill told me to take a shell for my upper and lower body and extra warm clothes, as they had quite windy conditions. Bill's friend brought an ice axe and Bill carried a collapsible trekking pole. Neither was needed. Homie and I also went in running shoes and gaiters. I wore a medium weight Capilene shirt and a light pile sweater over the top. I wore this straight from the car to the summit and nearly back to the car, but never put on any other clothes. We each carried 100 ounces of water (Gatorade for Homie) and more food than we could eat. I also carried a bigger set of gaiters (my running shoes had a tiny pair built-in), a second pair of gloves, a second hat, shell pants and jacket, and Gortex socks. I used none of this.
I left the house at 5:15 a.m. and met Homie in north Boulder at 5:30 a.m. We were hiking just before 6:30 a.m. by headlamp and we kept the torches on for at least twenty minutes. We ran whenever we could, but probably less than fifteen minutes on the way to Sandbeach Lake. We did hike fast, though, and arrived at the lake in an hour and thirteen minutes.
Here, Bill had told us to head straight west to get out of the trees as soon as possible. We didn't do this because we found some relatively easy going and then a faint trail. Soon we were climbing a very steep, snow-free slope. We followed the slope to the top of the ridge, hoping it was the tree-less ridge we saw on the topo map. Unfortunately, when we topped out, we found we were not on the ridge. Our ridge was lower and covered in trees and snow. We debated traversing over to the high, tree-less ridge, but psychologically I didn't want to head the wrong direction and take the long way around. I convinced myself, and Homie, that just plunging down off the ridge, into the thick of the forest, and plowing our way across to the steep talus slopes of Mt. Meeker was the best course of action.
This turned out to be a good call. Heck, Bill was only in the trees for an hour. That isn't that long to suffer and, frankly, it wasn't all that bad. An hour after leaving Sandbeach Lake, we too emerged from the trees and into the light of day. The rest of the ascent was straightforward, though tiring. Three hours into our ascent, we were at 12,000 feet. If we could just ascend at 1100 feet/hour we'd summit in five hours. Of course, we wanted to do better than that, though we didn't voice those desires. I certainly wanted to go under 4.5 hours – only because that was Bill's time. In doing so did I hope to prove I was faster? No way. I am much slower than Bill Briggs. He wasn't out to set any records the day before. He was just trying to move efficiently on his ascent. If I hadn't known Bill's time I would have cared less about my ascent time, but even then I'd want to move quickly. Homie is the same way. Even when we're not out to set any records, we like moving at a good pace. Bill Briggs is that way also. For me it is a natural extension to try and match your friend's times. At least once you are within striking distance…
<![if !vml]>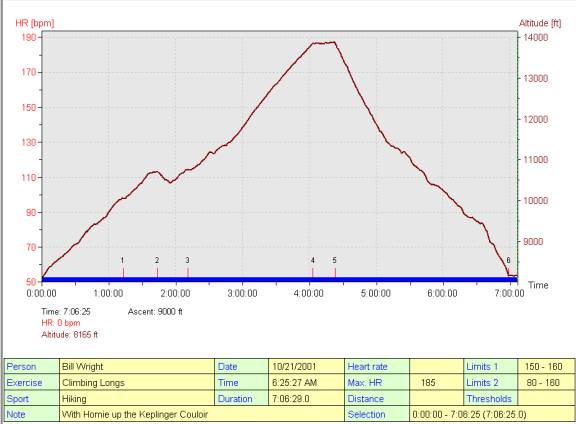 <![endif]>
I pushed pretty hard up this couloir. My approach to such things is to set a maintainable pace that I can hold all the way to the summit. My pace is not really that fast, but I rarely pause. I covered the 2200 vertical feet to the summit in just over an hour, summitting in 4h03m after leaving the car. Homie soon joined me and we spent twenty minutes on the summit. We ate, drank, signed the register and rested. At times it was completely still on the summit, but mostly there was a breeze. We were luckier with weather conditions than Bill.
Since our experience in the woods wasn't that horrible, we decided to just reverse our line of ascent. I wasn't too excited about climbing additional vertical to the summit of Mt. Meeker. We descended rapidly back to tree line and then decided to follow the Hunter's Creek trail back down to the Sandbeach Trail. Up high, there was no sign of this trail, but we knew it was there having seen it marked on Gerry Roach's map in his new "High 13ers" guidebook. We also spotted where this trail intersected the Sandbeach trail on the way up. At first the going was quite snowy, as expected, but after twenty minutes or so, we crossed over to the north side of the creek and picked up a faint trail.
We followed the Hunter's Creek trail all the way down to the intersection and here I finally stripped off my pile sweater. I packed up my gloves and hat and dug out a final GU. It had taken 55 minutes to reach this point on the way up. We were currently 6:25 into our day. Earlier, Homie had told me how Lori was excited that he was going off to do an adventure with me. She was hoping our quick pace would satisfy Homie enough so that he'd slow down a little when hiking with her. Hence, I felt it was my duty to work Homie as hard as possible on the way out.
I started running, but would walk whenever we got to any uphills on the way out. Once over the hill I'd continue walking until Homie caught up and then I'd take off again. I wanted Homie to return to Lori sufficiently wasted. I concluded that a roundtrip time of sub-7 hours was out of the question, but when I passed a landmark on the way down I reconsidered. It had taken 37 minutes to reach this particular landmark on the way up and my watch currently read 6:38. I had 22 minutes to cover the same ground downhill. I know it is ridiculous, but I enjoy doing such things. At the very least it would serve as a good final workout. I resolved to push hard until seven hours had passed and then take it easy or even walk it in.
With 14 minutes to go I was still 700 vertical feet above the trailhead. On a steep trail I can easily maintain a descent of 50 feet/minute, but this trail had significant flat sections. I pushed hard and tracked exactly at 50 feet/minute. I knew I was getting close and then I saw the parking lot. I kicked it in and finished in 6:58:44. Homie trotted in a few minutes later.
What a great, invigorating outing. It was my eighth different month to climb Longs (sixth different for Homie) and my 15th ascent of Longs by eleven different routes. Next up: Keyhole Ridge in November.