Diamond Attempt with Phil Gruber
Saturday, March 8, 2008
month 3 of the Long's Peak Project
Last year Phil Gruber and I climbed D7 on the Diamond in March. Our winter ascent had taken us 16.5 hours while the record was 14.5 hours. We figured there was at least two hours of fat in our previous ascent and we aimed to trim that this year. I donÕt remember what time we met, but it was early. The parking lot for LongÕs Peak is a lonely place at that time of year. Come summer time youÕll have to park a mile down the road if you arrive after 6 a.m. But in March, you get the front spot no matter when you pull in.
It was cold, but not too cold. We got lost a bit before reaching tree line where the trail disappears under drifts of blowing snow. Postholing here slowed us down and started to freeze PhilÕs gaitorless feet. We wandered around a bit, trying to avoid the deepest sections before finally finding the trail up in the wind. Here it was blowing so hard that two or three times we stopped and confirmed that no ascent would be possible in this wind. We only continued upwards because it was still dark and what else were we going to do?
<![if !vml]>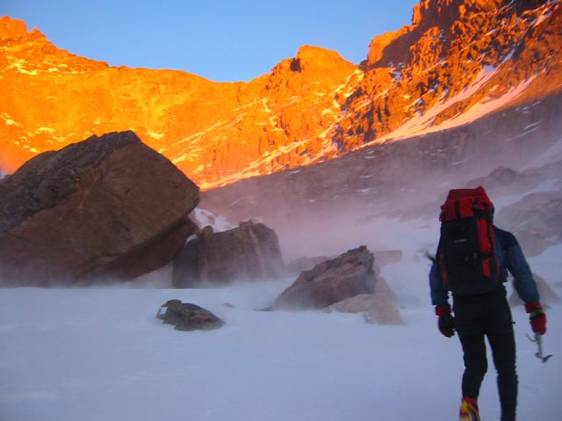 <![endif]>
Photo 1: It was a little breezy...
At Chasm Lake we took a short break. We walked across the very slick, ice-covered Chasm Lake and started breaking trail on the far side, working our way up towards the base of the East Face. We geared before the slope started getting steep and then Phil took the lead. I simul-climbed below him. Phil struggled mightily turning the chockstone at the top of the first chimney and then continued up the slab above. When I came to that section it was scary. The steep slab was only covered with from a few inches to maybe a foot of snow. When it was a foot thick, it stuck fine and you could kick a step, but when it was a few inches youÕd kick a step, hit the rock, and all the snow would tumble away. Yikes!
<![if !vml]>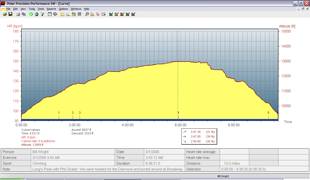 <![endif]> <![if !vml]>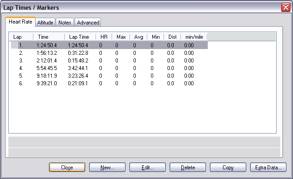 <![endif]>
This time we didnÕt break left at the steep section before Broadway. That was disaster last time. We didnÕt break right either, like you do in the summer. Instead, Phil led directly up to the corner on the right side of the D1 pillar. From here it was a short snowclimb/traverse left to an anchor right at start base of D1. But the headwall below Broadway was tricky and took Phil some time. When he reached the belay he fixed the rope and I jugged up to join him.
It had taken us nearly six hours (5h54m) to reach Broadway. The weather was holding, but it remained windy and we were tired. PhilÕs feet were frozen. Having no gaitors had taken a toll on him in the deep snow. It was too much. We did three rappels down to the snow gully and headed for the car. Upon arriving back at the parking lot things did get a lot better. Phil had lost his keys. We bummed a ride back to Boulder with a couple in the parking lot. They were amazingly nice and wouldnÕt take any money for gas, despite our pleas. They werenÕt even going to Boulder. Their plan was to head to Estes Park, in the other direction! WeÕll have to pass on that good karma.
IÕve heard it said that the crux of a winter Diamond ascent is the North Chimney. Having now made two trips up the North Chimney in winter, I somewhat agree. The most dangerous, technical, and scary climbing lies here, but just gaining Broadway is no guarantee of success. The key is to reach Broadway early enough in the day, with good weather, while not being too tired or too cold. This is a very difficult feat, but if accomplished, then the chances of success are very high.
<![if !vml]>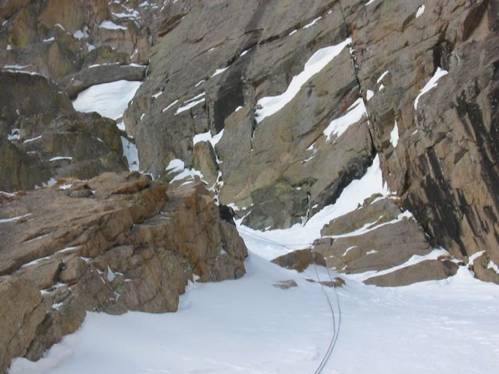 <![endif]>
Photo 2: Phil leading the start of the North Chimney
What we didnÕt realize from last year was that we had perfect conditions. Perfect snow conditions on the approach and perfect weather. Also, the North Chimney was in easier climbing condition then. What we didnÕt realize that we got super lucky last year and when everything was perfect we took 16.5 hours. In order to go faster than that weÕd need the same perfect conditions and we didnÕt get them. Our one winter ascent had deceived us and hubris got the best of us this year.
<![if !vml]>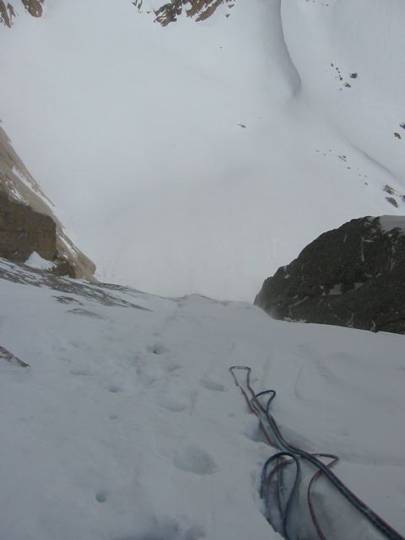 <![endif]>
Photo 3: Looking down from two pitches up on the North Chimney. There is just a few inches of snow covering this crackless slab - scary climbing.
<![if !supportEmptyParas]> <![endif]>
My first failure of the yearÉ It couldnÕt have been the route. The Diamond is a push-over in winter. It must have been the partnerÉ
And so it goesÉ
<![if !vml]>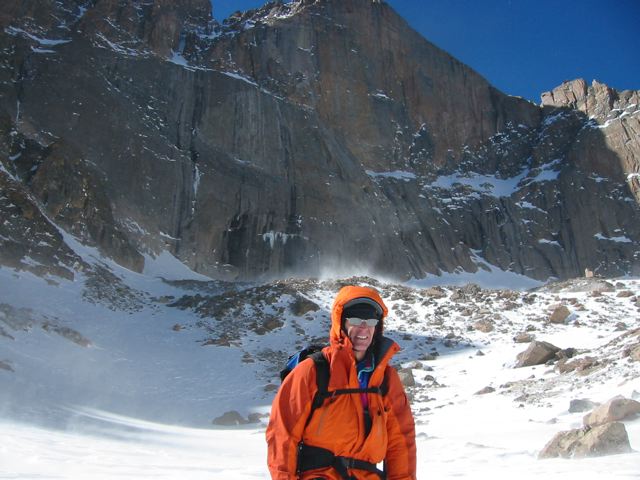 <![endif]>
Photo 4: Heading for home...