Longs Peak Triathlon – with a little help from your friends
September 18, 2004
When I broke my collarbone in mid-July, it sucked. I'd lose 6+ weeks of prime summer adventure time. I spent my time thinking up big adventures to make up for lost time. Lack of fitness didn't seem to be a barrier to my thoughts. I wouldn't have time to get back into shape before summer ended. I had solution that was far superior to actual talent: great friends.
<![if !vml]>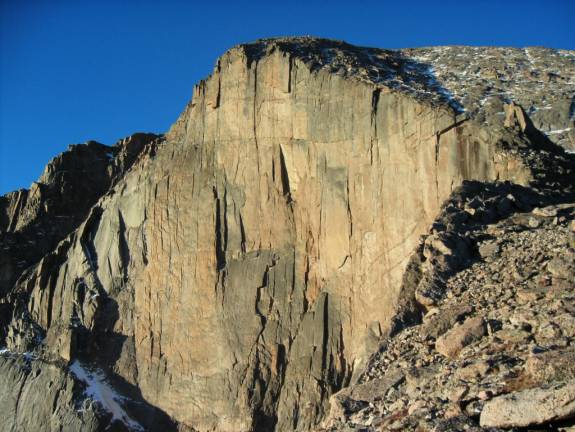 <![endif]>
Photo 1: The Diamond as we approach Chasm View
When I first heard of the Longs Peak Triathlon, I was amazed. Kevin Cooney and Neil Beidleman left north Boulder on bikes and rode the 40 miles and 5000 vertical feet to the Longs Peak Trailhead. They then ran into the base of the East Face, picked up some climbing gear from friends, and climbed the Casual Route. They then reversed their tracks back to Boulder and finished in less than 11 hours. Like I said, I was amazed, but I never thought I'd be trying something like this. It was as far beyond as climbing the Nose in a day. It was in the realm of the superstars, not average guys like myself.
Well, in 2002, with Tom Karpeichik, I did climb the Nose in a day (21h52m). That climb opened my eyes to what was possible for me. Also, since I first read about the Longs Peak Triathlon, I've done a number of long adventure days and even a few adventure races. I wanted something audacious to make up for lost time and to convince myself I was recovered from my broken collarbone, and I decided this was it. Deciding was the easy part. Now I needed my friends to help.
First and foremost, I recruited one of the greatest partners anyone could want for nearly any adventure. Stefan Griebel is not a jack-of-all-trades, but a master-of-all-trades. He's redpointed 5.13. He's climbed the First Flatiron, car-to-car, in 37 minutes. He biked the 105-mile White Rim mountain biking trail not once, but twice, in a single day! I never seen him tired. He probably does get tired, but not when I can keep up. By far his greatest quality is her personality. He's never upset, never cranky, and never disparages anyone. He always cheerful, always positive, and always encouraging. For this entire adventure he always treated me completely as an equal when I am far, far from it. Finally, Stefan had already done the Longs Peak Triathlon. Last year, with Alan Doak, he did this link-up in a casual 18 hours. Doing this thing twice puts him in an elite group of possibly size one.
Only slightly less important was the incredible support we got from Homie and Mark Oveson. These two are amazingly giving and self sacrificing people. Seriously, listen to this offer. Would you like to get up in the middle of the night, drive up to the Longs Peak Trailhead, carry a heavy pack of someone else's gear up 4000 vertical feet of trail and talus? Then, either head for home or wait around to carry it all back down again. Who would say "yes" to that offer? Remarkably, they said "Sure!"
Biking
I was up at 12:30 a.m. and driving ten minutes later. Stefan and I met at the Lee Hill Trailhead parking on Lee Hill Road, in North Boulder. We started biking at 1:20 a.m. from the intersection of Broadway and Highway 36. I was just in biking clothes and carried a shell and some GU. I only had one water bottle, my other cage being filled with my light's battery. This was insufficient for 40 miles and 5000 vertical feet, but I knew Mark Oveson was going to come by in an hour or so with another bottle for Stefan and me. Decadent!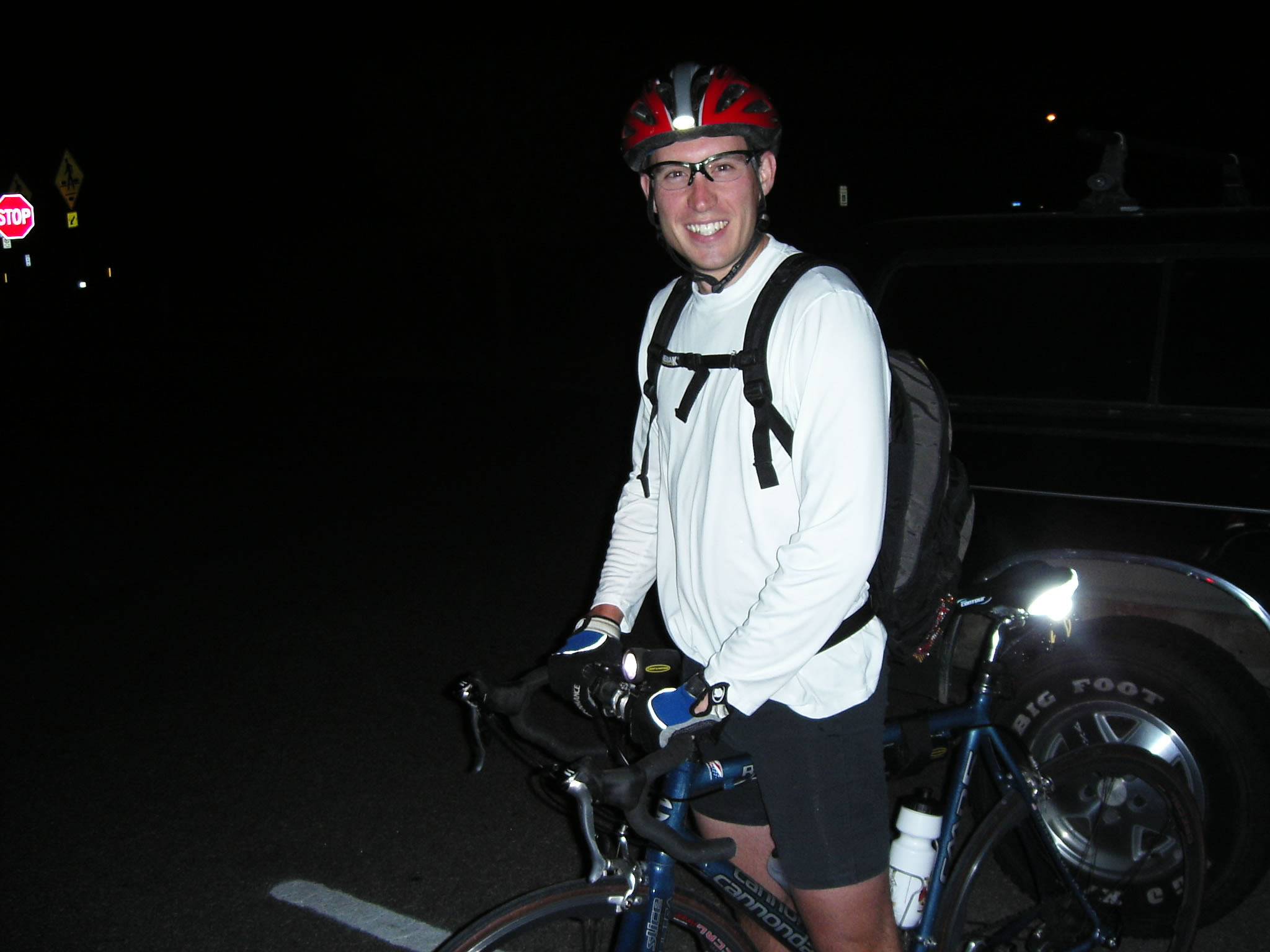 We took a few pee breaks on the ride up and put on some extra clothes when we arrived at the Peak-to-Peak Highway. For most of the ride we rode side by side, chatting. We knew this wasn't the most efficient way to ride, but the speeds were still pretty low and we didn't want to hammer the entire time. Not only couldn't I keep up that kind of pace for the entire event, but we wanted to make it fun as well.
We made Lyons in good time and headed up highway 7 on the long climb to the Peak-to-Peak Highway. An hour later, Mark drives by, rolls down his window and says, "Water or Gatorade, guys?" He handed us the fresh bottles and we handed in our empties. Five minutes later Homie comes by. He didn't offer us any sustenance. The nerve of this guy calling himself a support person!
After two hours my bike light died. This brought back bad memories of my 2003 adventure race when two (out of three) lights died on us and we were forced to walk our mountain bikes for hours. Of course Stefan's light was working fine and it provided enough illumination for me as well and we continued to ride abreast most of the time. Stefan's light died 20 seconds from the Longs Peak parking lot! It died a full hour earlier than it should have, but it was incredible timing and sign of just how well things were to go for us. It had taken us just over three hours to reach the trailhead.
Hiking
Homie had not only parked his truck as close as possible to the trailhead, but he had backed it in. This was key for us because of the light here at the trailhead. Our lack of any light source would have made any other arrangement a bit difficult. He thought of all the little details. We opened up the back of his truck to reveal our hiking packs, change of clothes, food, extra water, etc. We changed and then tossed the bikes into the back of the truck and took off up the trail.
Ideally we had hoped to run a bit of the approach and I don't doubt that Stefan could have done this, but if I ran even a short portion of this approach, I'd have ended up being slower. I just carrying too much weight, despite it only being two liters of water, less than a half-pound of food and some clothes. Instead I just tried to keep up with Stefan's fast hiking pace. I lagged behind at times, but tried to keep close enough so that he wouldn't have to slow down.
We had heard that the normal approach, up the North Chimney, was mixed up with ice and snow. Hence, we decided to approach the Diamond via the Chasm View rappels. Neither of us had ever done this approach and frankly that was part of the appeal as well. In retrospect, I think this approach is slower; more work, less stressful, less aesthetic, and offers less climbing. Nevertheless, it is a good option to know about, especially with the trick we learned (more on this later).
We hiked up to the Chasm Cut-off in an hour and fifteen minutes. This is slow, but it seemed like we were working hard. Part of the problem was the tremendous wind that was blowing. It was so hard that it was knocking us off balance and had us well in doubt about climbing the Diamond. This wind would convince my friend Josh Janes to abandon plans for the Diamond and climb Chasm View Wall instead. The saving grace was that it was a relatively warm wind and I thought we could suffer through it. We had to suffer through it. We couldn't waste the great support we were getting today. We had to pull this off, as it might be a one-shot deal.
We left the trail about halfway between Chasm Cut-off and Granite Pass and contoured up along the slopes of Mt. Lady Washington. We made a beeline for Chasm View. I was once again lagging behind, unable to keep up with Stefan's pace. I was encouraged by the fact that we'd have done almost all the vertical for the adventure by the time we arrived at Chasm View. We'd only have to climb the Diamond…
We were happily surprised to find Mark and Homie still at Chasm View, when we arrived. They had been there for about fifteen minutes and Mark was just heading down. These two were a bit chilled, but only because they had been sitting in the wind for awhile. I noticed Mark was still in shorts, like Stefan. Mark came out just to hike a load up here and then head for home, a very selfless sacrifice. Homie at least was sticking around to summit Longs for this seventeenth time, though he wasn't sure by what route. More importantly to us, was that Homie would be around to carry out all the gear Mark and he had carried in.
Climbing
We said hello, goodbye, and thanks to Mark and then started prepping for the climb. While we changed clothes again, strapped on our harnesses and helmets, and ate, Homie flaked both the ropes and prepared them for our first rappel. We were so pampered. Stefan went down first and I'd be deferring to him on all matters on the climb. I'm used to being mostly the leader on climbs, but lately I've been the weaker partner much more often. As Stefan slid down our double ropes, Homie snapped a couple of photos of the rappel.
When I joined Stefan, nearly two hundred feet below Chasm View, at the second set of rappel anchors, he came up with a novel idea. The terrain below, while steep, wasn't dead vertical and could probably be downclimbed at 5.7 or so. What's more, it was broken with rubble-strewn ledges. In short, it wasn't that intimidating and it didn't look that far to Broadway. We decided to chance the next two rappels with a single rope. We yelled up to Homie to untie the knot joining the ropes and drop only our lead line. With only one rope we'd have less weight to haul up the face and less complication to deal with. On the flipside, we'd severely hamper any chances of retreat and we wouldn't have the option of hauling our packs up. The weather looked great and retreat would only be forced if the cracks were too iced up to climb. Our packs were small and light and we'd just climb with them on our backs.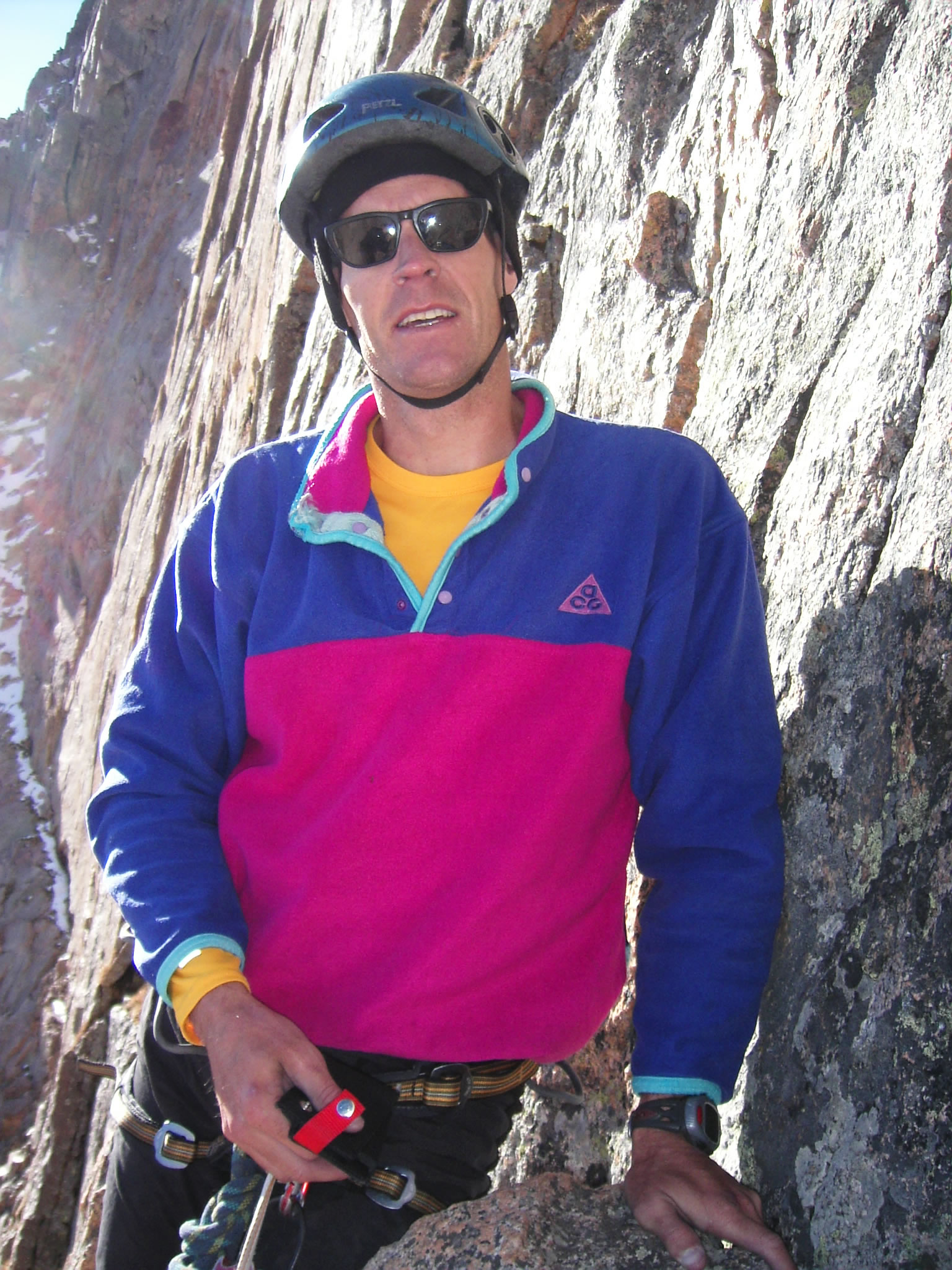 The next single-rope rappel didn't get us to the final anchor, but it required only 15-20 feet of 5.2 downclimbing and some careful traversing on loose ledges to get us there. The final rappel put us on the easy, though exposed, second-class terrain of Broadway. This is trick provides a climbing team the option of approaching via Chasm View, but climbing the Diamond with a single rope. They would merely have to carry an extra, thin, 200-foot rope up to Chasm View and fix it there. Then do a single rope rappel, carrying the lead rope with them for the next two rappels. They could retrieve the fixed rappel rope after descending the North Face on their way back to the trailhead.
As we did our final rappels, we saw a party top out on the North Chimney and traverse right to the base of our route. They sat there and geared up. My hopes for a fast ascent sank. Then I hoped that anyone climbing the Diamond this late in the year would be a fast team or maybe they'd let us go first. We traversed across the top of the North Chimney and this is very exposed and serious, but the climbing was easy, solid and relatively free of ice. We found the other teaming pulling on their climbing shoes and quickly learned they were heading for D7. Sweet! Things were going smoothly. They also remarked that the North Chimney approach was completely dry and no problem at all. Oh well, we learned a new approach.
Our plan for the Casual Route was audacious, at least by my standards. First, we soloed the first 5.4 pitch up to a small ledge. I was carrying our rope and was really feeling the altitude and the steep nature of the climbing. Though it was easy, solid, climbing, I moved slowly and sucked in great quantities of air that seemed barely laden with any oxygen at all. At the anchors at the top of the pitch, we clipped in and pulled on our climbing shoes. Stefan would take the first lead and at 8:30 a.m., he was off.
Just then, from across the wall at the base of Chasm View Wall, I hear a call, "Bill!" I could see a pair of climbers down there and thought I recognized the voice. I was surprised how well voices carried over such large distances. I asked, "Who's that?" It was Josh Janes, an excellent climber and friend of mine, with his partner Max. They were headed for the Directissima (5.10). I'd done this route years ago with Wayne Tryzna and found it very steep and physical, but with outstanding climbing and position. The route would prove to be no problem for these strong climbers and I enjoyed watching their fast progress up the wall.
Stefan climbed up relatively easy ground, 5.7 or so, for the first hundred feet and then did about twenty feet of 5.9 climbing up a thin crack to where the key traverse leads out left across the steep, though well featured, wall. This was the key to finding a moderate route up the Diamond. This traverse allows the Diamond to be climbed with only about five feet of climbing harder than 5.9. But, for me at least, all the climbing on the Diamond seems about a number grade harder than its rating. It is so steep and continuous, in general, and the pitches are long. The base of the Diamond is at 13,000 feet and any vigorous exertion puts you into serious oxygen debt quickly. Thankfully nothing on this route required much exertion from Stefan and partnering with him reduced my stress level quite a bit. I knew he could drag me up the wall. As it was, I'd hardly lead anything on the wall.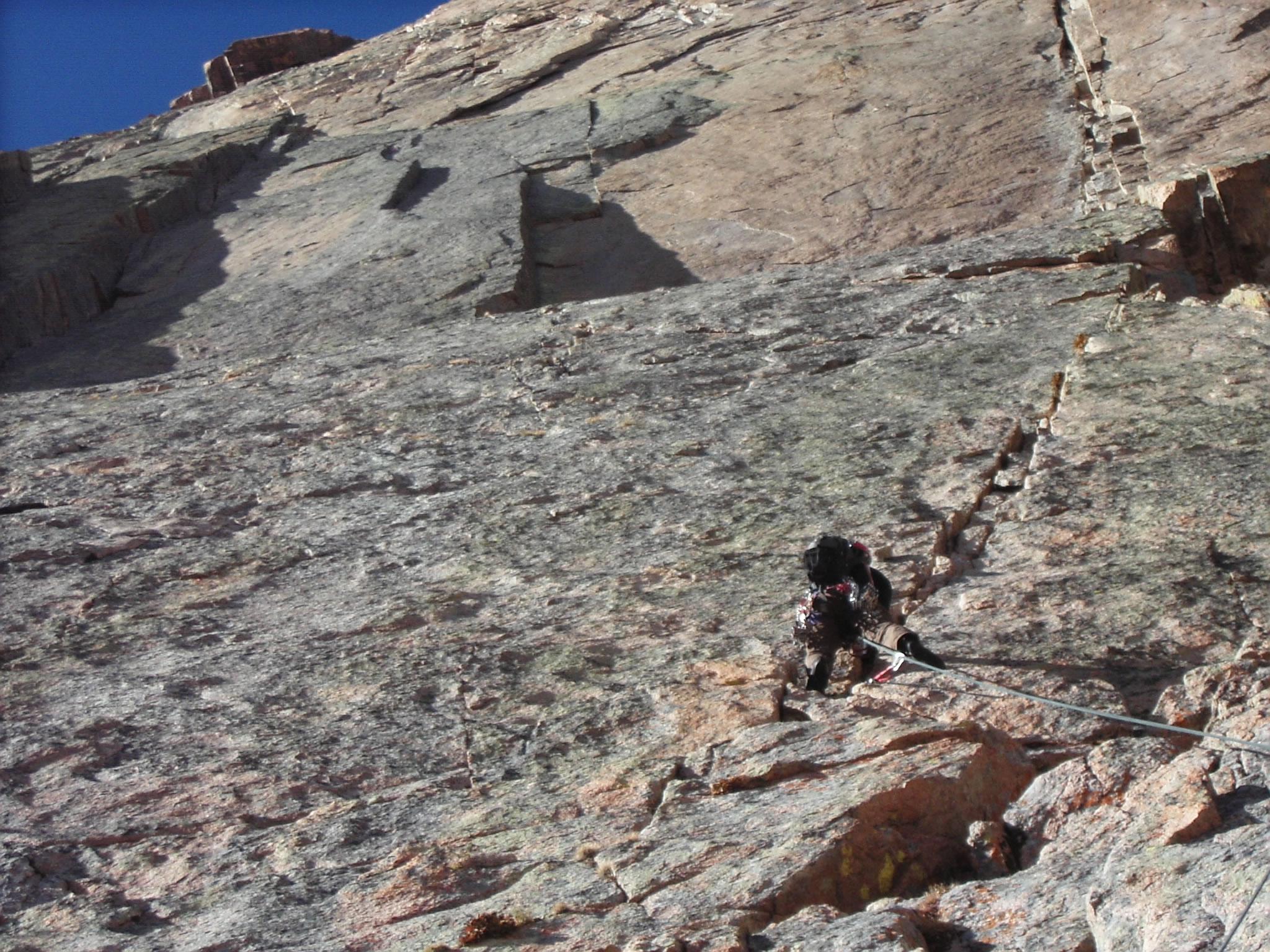 Stefan scampered across the traverse and then got to the end of the rope. Normally, you'd belay here, but we planned some simul-climbing. While Stefan led up the 5.8 slot and crack, I climbed the lower portion of the pitch. I climbed slow and solid and we moved together for a hundred feet. As I got to the 5.9 section, I was quite worried. I didn't trust myself simul-climbing on the bottom of the rope on such terrain. I yelled up to Stefan, "How are things going up there, Stefan." Much to my relief, he responded with, "Just fine. I'm setting up a belay now." Whew.
It took Stefan only five minutes or so to setup a belay, but I was growing tired just staying in one location. I had pretty good footholds and was alternating hanging on with either hand and shaking out the other. The weather was stupendous and I was warm. Soon I got the call that I was on belay and I fought my way up the 5.9 section and started the traverse. The climbing on this section is really incredible. The rock is so solid and just featured enough. The position and exposure are very exciting. Stefan had done a brilliant job in leading a 300-foot pitch with a minimal rack and some of the runouts were very heady. He ended the pitch with just a couple pieces of gear – just enough to setup the belay.
I completed the traverse and then wrestled mightily with the 5.8 slot. I didn't have to remove my pack for this section, but the climbing was physical here. The saving grace for entire climb was that the hard sections never seemed to last more than ten feet or so before there appeared a decent foothold upon which to recover my breath. I moved slowly with frequent pauses to recovery, yet when I arrived at the belay, knowing that I was holding up the team, the first thing out of his mouth was, "Great job, Bill, you moved really quickly." Stefan must have training as a motivational speaker, because, even though I knew it wasn't true, it was exactly the thing to motivate me to move fast. It was, again, Stefan's constant philosophy of staying positive about everything.
I already had the entire rack, so it wasn't long before I was moving up the next pitch, the long 5.8 corner. When I entered this corner it meant saying goodbye to the sun for the duration of the climb. Actually, we entered a lower corner system just before the belay and said our goodbyes then. Even though the sun would stay on the face until 10:30 a.m. we wouldn't emerge from the corner until past then.
Knowing I had to go 200 feet before the belay, I tried to space out the gear earlier in pitch. The pitch accommodated me with some easy going after a tricky slab and a short headwall. The climbing seemed to come in ten-foot bursts, where I'd have to work quite hard and then would get a foothold upon which I could place gear. Sometimes, at the top of these ten-foot exertions, I'd reach up to what I thought was a solid jug and find it covered in hard snow or even ice. For a moment, I'd panic, thinking I was now looking at a 20-foot fall, but calmed down and searched for an alternative hold. Mostly the climbing was completely dry, but deep in the cracks it was wet and some of the flat sections had snow and ice.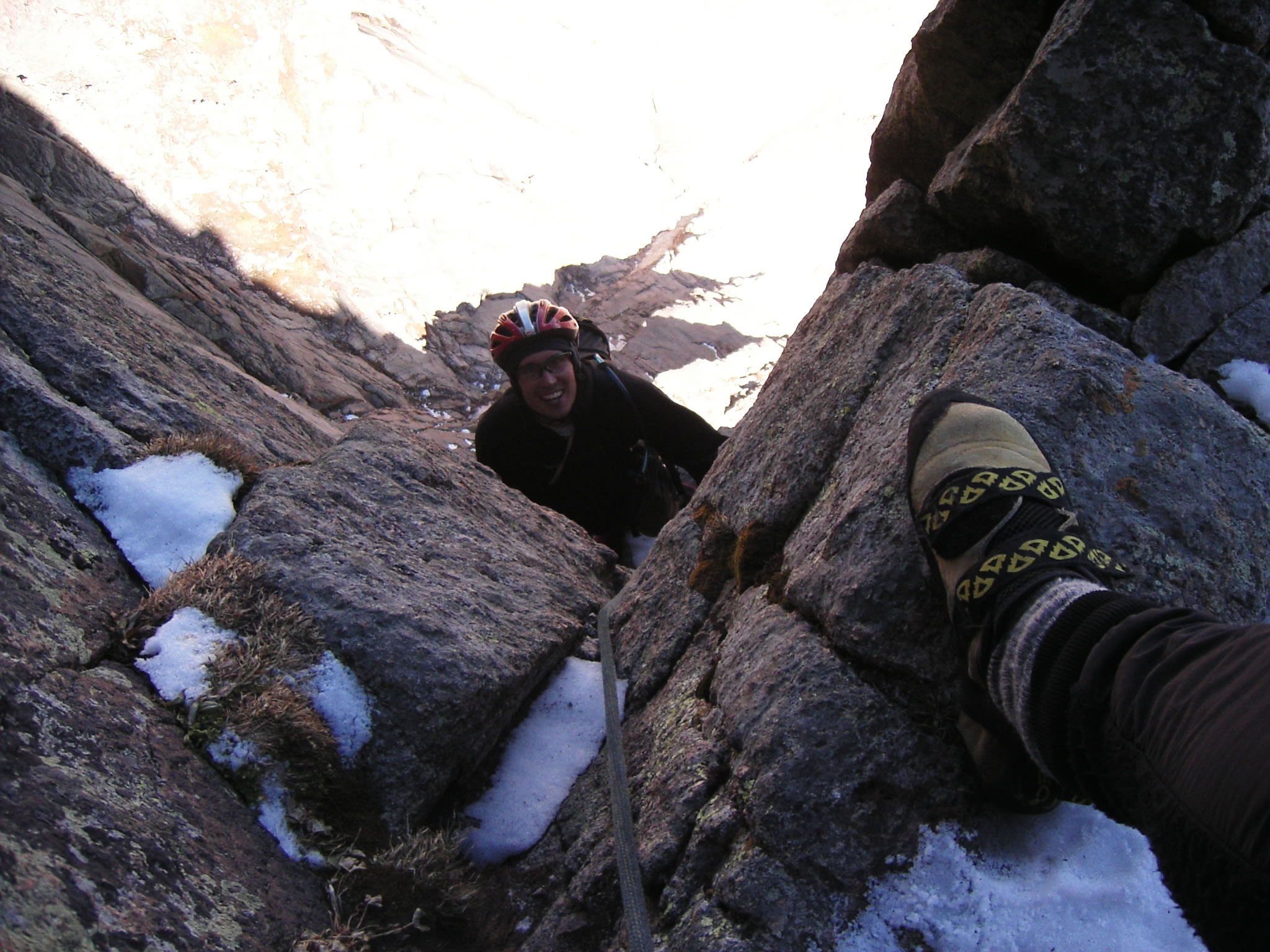 It must have taken me a long time to cover the 200-feet and I knew that Stefan would be very cold at this point. He'd been immobile at a semi-hanging belay while I laboriously climbed four hundred feet. I set up a belay on a good ledge just below the crux pitch and put on some extra clothes before calling down to Stefan, "On belay!" Stefan climbed easily and quickly up to my ledge, only pausing to blow on his frozen fingers. This seems to be one thing we have in common: poor circulation in our hands, at least while climbing at 13,500 feet in late September and while squeezing all the blood out of them by torque in them in dark, cold cracks.
At the belay, we took a moment to get out our chemical heaters. Once these got going, it wasn't long before Stefan's fingers returned to a climbable state. He re-racked and then prepped his pack with a sling. More than halfway up the crux pitch was a difficult, squeeze chimney and passage would only be possible by dragging our packs up beneath us.
Stefan moved up the crux pitch and I knew his hands were cold and uncomfortable. I was a bit concerned, wanting him to be confident and strong so that there would be no chance of me having to lead the pitch. I asked, cautiously, "How are things going up there, Stefan?" He responded as cheerfully as if he was sitting at the beach with a cold beer, "Excellent, Bill! This route is so fun. These hand warmers work so great." It relaxed me completely. Stefan was about as stressed as he was climbing the Third Flatiron on one of the Minions morning scrambles.
Stefan casually climbed the 5.9+ thin section, which I consider to be even harder than the crux, only because it is longer. He then moved up and into the squeeze and made steady movement up this dark, sinister slot. This slot gives many people fits, but Stefan would later say, "If that chimney was in Yosemite, it would be rated 4th class!" Clearly an exaggeration, but this chimney is not in the same class as the impossibly slick terrors of the Valley.
Soon Stefan was at the belay and it was my turn. I was a bit concerned about the 5.9 section and didn't want to hang on the rope, but I figured any way up and off this face would be fine. I warmed my hands with the heaters extensively before launching into the 5.9 section and then just barely thrutched up it without hanging. I used more chimney technique in the tiny inset than I had before and this seemed to help.
The chimney was the usual struggle and I inched up it, literally. I expended a lot of time and calories, but I know how to climb chimneys. Above the slot was the short, 5.10a crux. Stefan called down from just above me, "Yeah, I thought it was a bit cruxy there." The section is solved with a couple of thin hand jams, with the most difficult part being locking off the first hand jam and getting the feet up high enough on the overhanging terrain below so that you can reach the next jam. Once this is done, it was over and I was still clean.
I didn't delay long at the belay, before moving off to the left, along the crack and seam that would eventually become Table Ledge. I ran out most of the rope getting to the ledge and then getting by a snowy section to terrain where I felt comfortable soloing. I put in an anchor and soon Stefan had joined me. We still weren't in the sun, as we had to move completely off the Diamond and onto Kiener's route before we see it. Fortunately, that was only fifty feet away and we coiled the rope, stowed the gear, and took off. I was elated! Climbing the Diamond for me is always a big deal and I was very excited to have done it and done it free, though Stefan led almost the entire route. I knew that 75% of the Triathlon was now done and nearly all the stress. We only had the North Face descent to deal with now and if it was too icy, we could just head down the Keyhole Route, though it would put us a long way from the gear we cached at Chasm View.
We climbed a couple hundred feet up Kiener's route before calling for a stop to switch our shoes and eat and drink something. I was starting to bonk and needed fuel. I shed a bunch of clothes here and had to strap a lot of gear on the outside of my Camelback H.A.W.G. for it was bursting at the seams with the rack. Stefan strapped the lead rope on the outside of his Camelback and we resumed the scramble to the summit.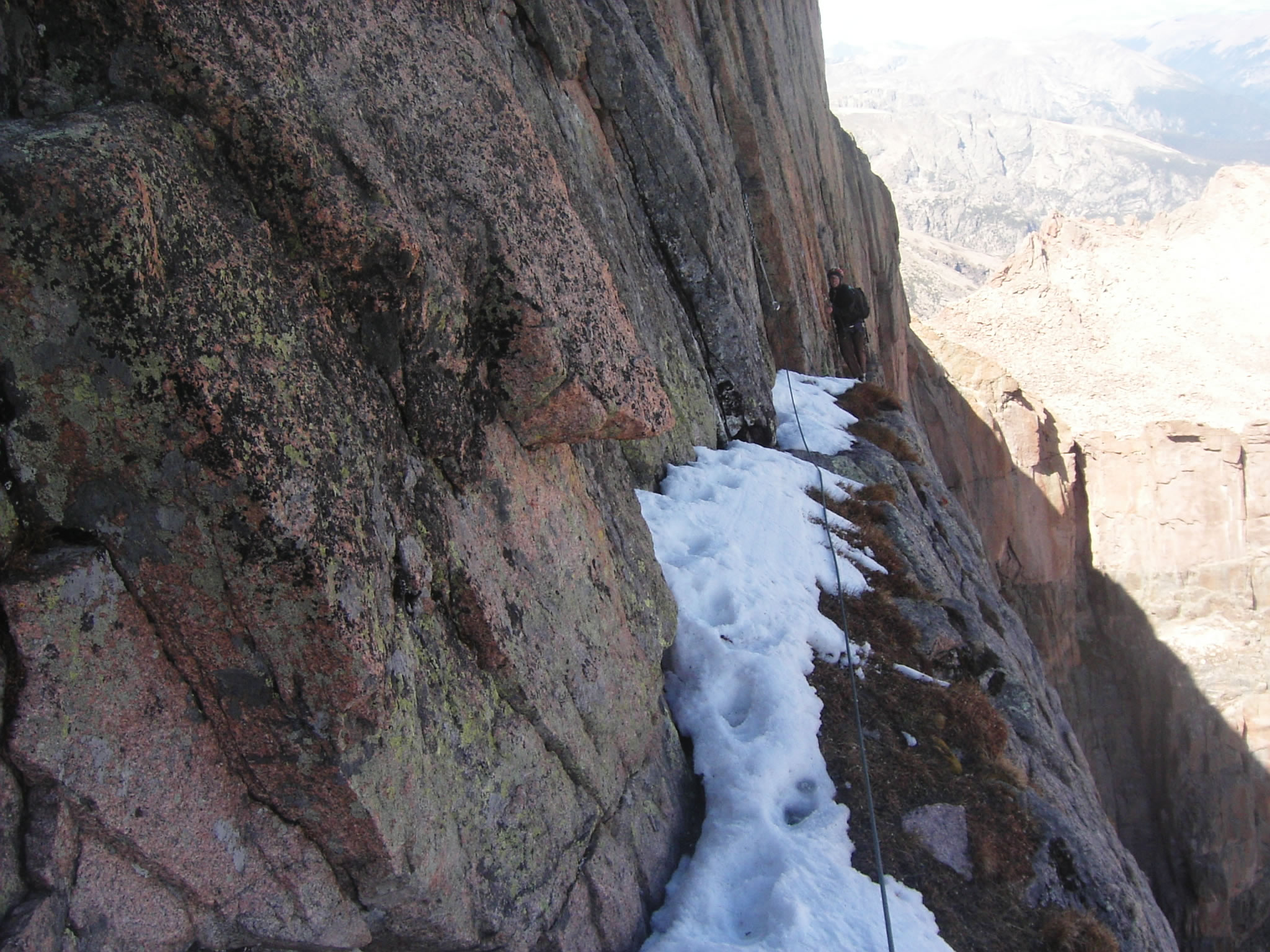 I wondered aloud about how the Triathlon kept us in three different types of footwear for about equal amounts of time. We'd spend roughly five hours in climbing shoes, scrambling/hiking shoes, and biking shoes. Each time it was nice to pull off the shoes. Putting on the others might not have been great, but at least it was a different pair.
Just before the summit, we saw Homie descending toward us. He said, "I had almost given up on you two." True, we had hoped to summit before noon and now it was after 1 p.m. Nevertheless, we were elated to be summitting and Homie congratulated us. Homie had climbed the Cables Route with another party. Shortly after we left him at Chasm View, another team showed up and asked him what he was doing. He explained our adventure and his role and they then asked him, "Well, do you have a harness." He did indeed and ascended with this team. The leader had to climb well right of the Cables Route, on an unprotected slab, because the normal corner was completely iced up. It was bold lead and allowed Homie to top out very early.  Homie had waited for hours on the summit for us and had met and talked with many other climbers. One group of four young guys had just come up Kiener's route. We had seen them from Chasm View as well. Homie discovered that one of these guys had already climbed Everest, at such a young age.
Stefan and I tagged the top and signed the register. Stefan took some pictures for other summitters and then we started down after Homie. He had continued down with a rope to set up the rappel. Stefan and I moved slowly and cautiously down the snowy and icy face, picking our way through loose talus and delicately crossing small snowfields. At least a few spots had "no fall" areas where a mistake could have been fatal. I used this slow pace to recover a bit.
Eventually we arrived at the rappel anchor, and found Homie already a hundred feet down. The rappel requires two ropes now because apparently some of the eyebolts have been swept away. After some rope shenanigans, we were all down the rappels. Stefan pulled off a very large rock when pulling the ropes, but he was able to get out of the way. Back at our gear cache at Chasm View, Stefan and I stripped our gear to the minimum, leaving Homie to carry down at least sixty pounds worth of ropes, hardware, harnesses, helmets, shoes, clothes, food, etc. In return for this effort, we had to promise to run on the way out.
Hiking / Running
Stefan and I picked our way quickly down the talus and reversed our route back across Mt. Lady Washington and finally down the trail. We mostly hiked very fast here, with occasional trotting whenever the terrain allowed. Once we hit the trail, we ran the rest of the way back to the parking lot. Still above treeline, we passed Josh and Max hiking out from their climb. We took the upper Briggs shortcut, but missed the lower shortcut somehow. Near the end of the trail, we ran past the Kiener's team. I was started to fade pretty good on the run out and falling behind again and was really glad to see the rail fence marking the end of the trail,
Biking
Gearing up in the parking lot, with our bikes leaning against the rail fence, we furiously changed clothes, ate, drank, and prepped the bikes, mainly by removing our lights. A woman was talking to an older couple seated in the car directly next to ours. She said to them, "You know what is going on today? A Longs Peak Triathlon. Two guys biked up here from Boulder and then ran in to climb the Diamond." I thought she was saying that for our benefit, but when I looked up she was oblivious to us. She then looked over at us and asked, "Is it you guys?" Duh… How many people on bikes do you here? I smiled and nodded. The four young Kiener's route climbers came down to the parking lot and congratulated us on our feat. They were pretty psyched for us. Homie had been spreading the word about our ascent and it seemed like a lot of people knew about it.
We hoped on the bikes after more than fifteen minutes of transition time and cruised down to the Peak to Peak. We were both feeling fantastic. Sitting on your backside will do that for you. Biking is hard, but it's lots easier than running, hiking, or climbing, especially when it is downhill. We took turns at the front and worked much more seriously on our paceline on the way down than the way up. At the top of our last climb before the long descent to Lyons, the cleat in my right show felt really loose and we stopped to crank it down. We stopped just in time, for as I unclipped from my pedal, the cleat fell off the shoe. Thankfully Stefan thought to pack a hex wrench. It took us three minutes to fix my shoe and while we sat on the side of the road, Josh Janes and his partner Max pulled up and stopped. It was cool seeing them again and it energized us a bit more.
Stefan took long pulls down the descent and I'd find myself frequently totally spun out in my 53-12. We covered the 25 miles from the trailhead to Lyons, including three short climbs in only 56 minutes of riding time. That translates into one heck of a good time and our smiles were broad. We were flying. Our goal was to make Lyons before Homie caught us. We figured to have at least an hour lead on him at the trailhead and 45 minutes on him at the start of our ride. It turns out Homie hammered on the way out, despite the weight, and arrived probably only 30 minutes after us at the trailhead, but it wasn't enough. We kept up the effort all the way back to Boulder, trading pulls every couple miles, doing the complete trip in only 1h36m, including our single stop.
Conclusion
The complete adventure took just over 16 hours, Boulder-to-Boulder. The first time I climbed the Casual Route, it took me 18 hours, trailhead to trailhead. The Triathlon involved 80 miles of cycling, with a total of nearly 6000 feet of climbing, roughly 15 miles of hiking and 5000 vertical feet, three rappels, and what is normally seven pitches of roped climbing, up to 5.10. Some think just riding up to the trailhead and back is a pretty full day. Hikers think just climbing Longs is a non-trivial day. Climbers bivy below the face and think just climbing the Diamond is a full day. I agree with them all.
I'm not sure how many times the Longs Peak Triathlon has been done. My guess is less than ten times – around the number of times Half Dome and El Capitan have been climbed in a day. This adventure is considerably easier than the Yosemite linkup, but it probably less sought after because of the interdisciplinary nature of the event and possibly the general sanity of Colorado climbers. Many, most perhaps, will read this and their most overwhelming thought will be simply, "Why?" Why, indeed. Just to see if I could…
This was my first time repeating a route on the Diamond, my first time soloing on the Diamond, my first time simul-climbing on the Diamond, and my first time climbing the Diamond after biking up from Boulder. I've now climbed the Diamond five times via the Casual Route, D7, Pervertical Sanctuary, and the Yellow Wall. I've never failed on the Diamond, but I've also never completed the entire wall, always traversing off on Table Ledge. This was the second time I've completely freed the Diamond. On my first ascent of the Casual Route, it started snowing on the crux pitch and I grabbed a couple of slings in my fear to get the pitch done as quickly as possible. On D7, we full-on aided the 5.11 pitches. On Pervertical, I hung on gear on both 5.10 pitches. Finally, on the 5.11 Yellow Wall, using Mark Hudon as a rope gun for the hard pitches, I freed the wall. I've now climbed Longs Peak about 23 times, mostly by different routes or variations. I think Roger Briggs has climbed the Diamond nearly 100 times!
The two most impressive accomplishments involving the triathlon are Roger's Briggs' one-way time of 5h45m, soloing the Casual Route. I think Roger's was the only triathlon to involve no outside support or cached gear. His brother, Bill, did the Longs Peak Triathlon also solo, but Bill rope soloed the Casual Route. Bill has done the Longs Peak Triathlon via other east face routes as well, though only this one time via the Diamond.
While I've learned from this adventure that perhaps I can achieve more than I originally thought, I've mostly learned that nearly anything is possible with the help of great friends, for this adventure is truly out of my league without them. Thanks, guys.
<![if !supportEmptyParas]> <![endif]>
Table 1: Longs Peak Triathlon Splits
| | | | |
| --- | --- | --- | --- |
| Location | Split Time | Elapsed Time | Time of Day |
| Highway 36 and Broadway in north Boulder |  0:00:00 | 0:00:00 | 1:20 a.m. |
| Highway 36 / 34 Junction in Lyons | 0:33:20 | 0:33:20 | 1:53 a.m. |
| Peak-to-Peak Highway junction | 1:28:17 | 2:01:37 | 3:21 a.m. |
| Arrive Longs Peak Trailhead | 1:07:39 | 3:09:17 | 4:29 a.m. |
| Leave Longs Peak Trailhead | 0:13:48 | 3:23:05 | 4:43 a.m. |
| Chasm Cut-off | 1:16:49 | 4:39:55 | 5:59 a.m. |
| Chasm View | 1:16:11 | 5:56:06 | 7:16 a.m. |
| Start rappelling to Broadway | 0:21:33 | 6:17:40 | 7:37 a.m. |
| Start roped climbing of Diamond | 0:59:43 | 7:17:24 | 8:37 a.m. |
| Table Ledge – end of roped climbing on Diamond | 3:57:34 | 11:14:58 | 12:34 p.m. |
| Summit of Longs Peak | 0:32:24 | 11:47:22 | 1:07 p.m. |
| Descend to Chasm View and transition to hiking | 0:59:02 | 12:46:20 | 2:06 p.m. |
| Arrive Longs Peak Trailhead | 1:23:35 | 14:09:55 | 3:29 p.m. |
| Leave Longs Peak Trailhead | 0:16:55 | 14:26:50 | 3:46 p.m. |
| Lyons | 0:58:20 | 15:25:10 | 4:45 p.m. |
| Highway 36 and Broadway in north Boulder | 0:35:51 | 16:01:01 | 5:21 p.m. |
<![if !supportEmptyParas]> <![endif]>