There's a new sheriff in town and his name is Dave Mackey. Dave Mackey is an all-around adventure superstar. There is nothing he can't do. From onsighting 5.12 to national champion 50-mile runner to adventure racing victories, he does it all. At least he does now. His entry in the scrambling races was a long awaited and highly anticipated event, similar to his debut at the 100-mile running distance. At the Western States 100, the most competitive 100-mile race in the world, Dave finished 2nd in his debut at the distance. In Dave's first time in the 5-year-old Third Flatiron Race, he not only took top honors, but also shattered the record set last year by Buzz Burrell. Dave ran a jaw-dropping 33:17 for the 3-mile, 1600 vertical foot, 8-pitch 5.2 course.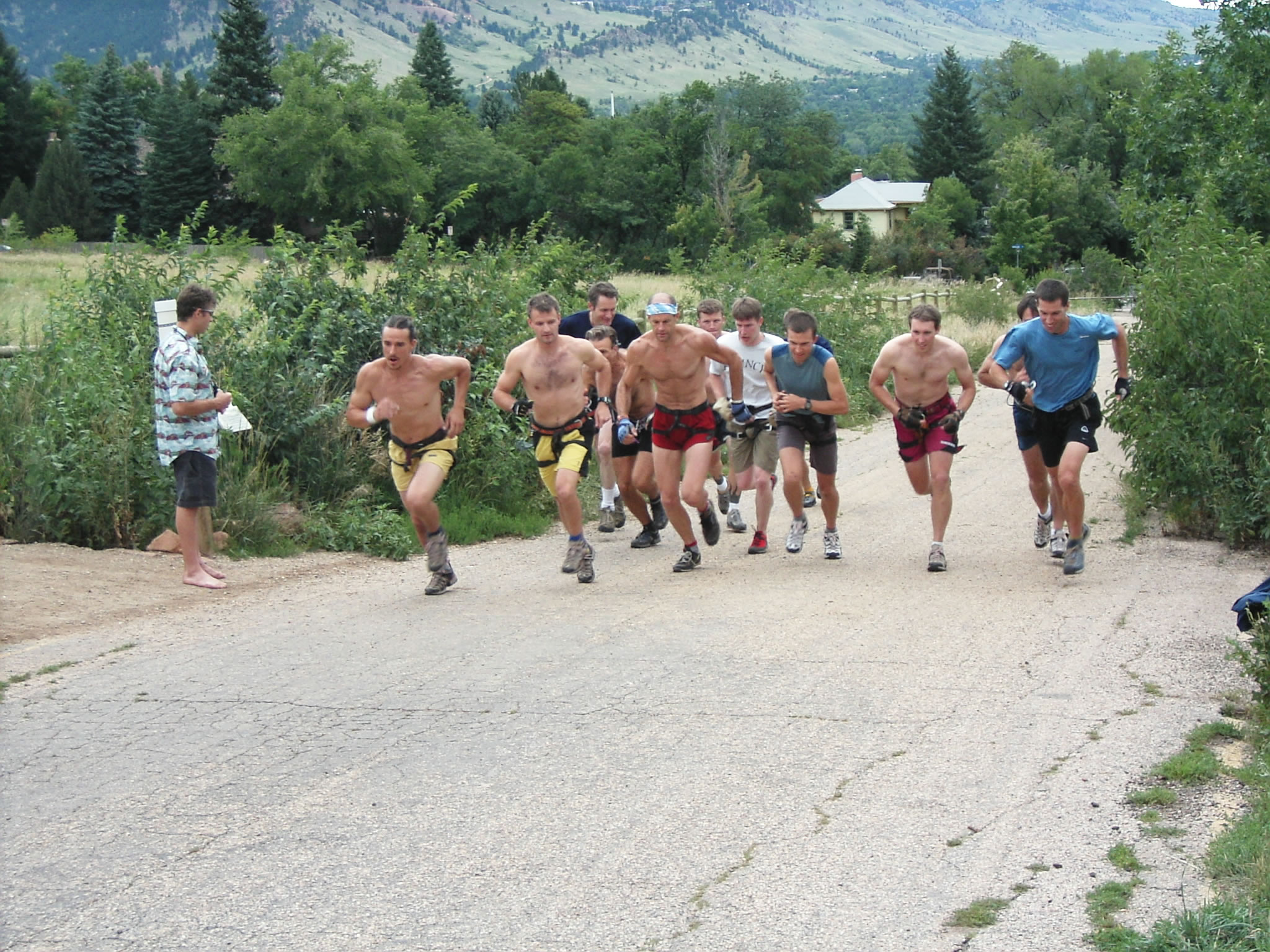 If Dave is the sheriff, then Galen Burrell is the deputy, for he also broke the previous record, finishing in 43:02. Galen's dad, Buzz, followed a minute back with an excellent time. Jon Sargent was a further 12 seconds back, but with a huge PR and he continues to close the gap on Buzz. In all, seven racers were under 39 minutes! Nine were under 41 minutes! Joseffa Mier finished with a new female course record of 1:01:44.
More details to follow.
Lots of photos of the start/finish are here and photos from the face by Mark Bockmann are here.
Table 1: Full results for 2004 SMSC Third Flatiron Race (! – denotes PR)
| | | |
| --- | --- | --- |
| Place | Scrambler | Time |
| 1 | Dave Mackey (! – course record) | 33:17 |
| 2 | Galen Burrell ! | 34:02 |
| 3 | Buzz Burrell | 35:02 |
| 4 | Jon Sargent ! | 35:17 |
| 5 | Stefan Griebel ! | 37:20 |
| 6 | Christian Griffith ! | 37:24 |
| 7 | David Stewart ! | 38:58 |
| 8 | Ben Mottinger | 40:15 |
| 9 | Chad Greedy ! | 40:47 |
| 10 | Josh Thompson ! | 44:18 |
| 11 | Tony Bubb ! | 45:27 |
| 12 | Martin LeRoux ! | 46:10 |
| 13 | Joseffa Mier ! | 1:01:44 |
<![if !supportEmptyParas]> <![endif]>