The Brook Loop – Super Modified
April 30, 2003
I've run the 5-mile, 1100-vertical-foot Brook Loop so many times this year. I love it. Every time I've run it, I've gone clockwise. I needed to shake things up. Today I ran it counterclockwise. The great thing about altering your course it that whatever time you run, it's a PR because it is a new course – even if you're just going in the opposite direction.
I ran up the Mesa Trail to the Big Bluestem and then up that back to the Mesa trail and then south to the Bridge Trail junction. I was shocked to be passed by a runner just before I got to the Mesa Trail. I didn't hear him coming with my MP3 player going and he gave me quite a start. I don't get passed often and didn't expect anyone to be out running this trail at this time of day. In fact, I've never seen another runner out this early on this trail. He was working hard, but I could nearly stay with him. He stopped at the junction and inspected his watch, much like I'd do if I were doing a time trial up to this location.
I continued by without stopping and turned off the bridge trail 23m17s. I took an out-and-back detour here and then continued around the loop to finish in 1h58m31s. That sounds slow, considering I usually do this loop well under an hour, but today I included a special twist in involving that little out-and-back detour.
The last time I sent out mail to speed climb the Maiden, I didn't get any response and I didn't get out of bed that morning. I later learned that Mark Oveson had shown up and was ready to go. This time when I sent out the note, I did get at least two positive responses and I was definitely showing up. Alas, I was the only one who did. I must not have been clear that the plans were firm. My fault.
Today I was not to be deterred by a mere lack of partners. I loaded up my Camelback with a 7.8mm 60-meter rope, three cams, five slings, six leaver biners, a locking biner, rappel device, and my harness. I wore my SuperFly shoes and brought no climbing shoes. I also carried about a liter of water (of which I didn't take a single sip – doh!) and my MP3 player. Since it was 41 degrees out, I went in tights and a pile sweater and even gloves. This was soon overkill for the strenuous approach jog. I was jogging by 6:15 a.m.
Mark Oveson had climbed the Maiden just this past Saturday. He wasn't pushing for speed but concluded, "Judging from my experience on Saturday, any time better than three hours would be very hard." I wonder if he sent me that on purpose. He knows I love to have a time to shoot for and I was determined to break three hours.
I had never soloed the Maiden and knew I didn't want to do it unroped because of the tricky climbing and massive exposure. I was going to rope solo it with leaver biners, ala Hans or Dean. The Maiden's regular route is up the North Face and it consists of a bizarre series of traverses and downclimbs as it comes in from the west along a rib with huge drops on either side. Once at the Crow's Nest below the massively overhanging West Face, the route descends further on the North Side and basically traverses across the steep north face over to the gentle East Ridge. The climbing is rated 5.6, but I think it feels like 5.7, maybe due to the exposure.
I turned off the bridge trail and trudged up the climbers trail to the start of the route. I soloed up the initial face and then down along the ridge a bit, but stopped before getting to the Crow's Nest. The final traverse is a bit airy and I wanted to get my harness on and the rope organized. This took quite awhile. I coiled most of the rope over my shoulder and continued on, still soloing, to the Crow's Nest. Here I climbed up ten feet on the West Overhang route to a good ledge and placed a bomber cam. I made a big loop out of my rope, tying both ends to my harness and clipping the loop to this piece. I then downclimbed back to the Crow's Nest and then down to the crux traverse section. If I fell, my loop of rope would eventually catch me.
I found the moves over to the tree to feel much easier than before. Once across the difficult section, I untied one end of my rope and pulled it across, leaving behind the cam and biner. As I let go of one end and started pulling the rope, I was horrified to see that there was a knot in the end of the rope. There was no way to get to this end of the rope as it was down below the crux and well west of my location. This highlighted a real exposure with my soloing technique. If my rope ever got stuck, after I dropped one of the ends to pull in my loop, I was going to be stuck. I didn't even have a knife is which to cut off the remaining rope. Even if I could it would only be to reverse my course, since a 60-meter was needed to rappel from the summit. Actually, only 30 meters was needed, but I couldn't be able to retrieve the rope. Thankfully the knot pulled through the carabiner and was completely untied by the time I reeled in all the rope. Funky, thin ropes…
I was a bit dismayed to not find any fixed anchor on the tree. I thought about just looping my rope around the tree, but was worried it wouldn't pull cleanly from the other side. Instead, I placed a sling around the tree and used one of my leaver biners to clip my rope to it. This would be the only gear I'd leave behind. I climbed up and left to just below a piton, which is on the Walton Traverse. I elected to stay lower, on the standard route, but that meant I went without gear over to the corner. I felt solid here, but was conscious of the massive exposure. Halfway across I had to give myself a bit more rope, but soon I was pulling my rope across once again.
From here I soloed up the corner and onto the 4th class East Ridge. I continued without protection until the summit, which I reached a little over an hour and fifteen minutes from the trailhead. I took my time setting up the rappel. It was a bit freaky dropping over that sharp edge on such a tiny rope, especially doing this all alone. The rappel went smoothly and I kept myself on rappel as I scrambled up to the ledge to retrieve the cam I previously placed there. One more rappel and I was on the ground and packing my gear.
I noticed that I still had over thirty minutes to break two hours. I had approached to a higher point in forty minutes, so doing the descent in thirty minutes should be very doable. Hence, I had a reason to do a little running on the way down. I made things tougher on myself by completing the Brook Loop, but I felt it was worth it just for the introduction to this report!
I lumbered along with my load and had to push pretty hard going up the hill on the bridge trail. I knew I had it once I got to the Towhee Trail, but I had to keep up the effort. As I said above, I broke two hours, but with a committed partner, I think I could lower this easily by 10-15 minutes by the better rope management that a simul-climbing team would afford. Heck, I think I could easily cut that amount of time off the roundtrip just just smoothing out my solo technique and coming down via the Big Bluestem. I never really pushed that hard, as my heart rate indicates below. I took things really slow and cautious on the climb and spent a lot of time making sure my rope was running smoothly. It was a fun, new experience up there.
The roundtrip involved about 2000 feet of vertical gain, probably 6-7 miles of hiking/running, and 4-5 pitches of climbing.
<![if !supportEmptyParas]> <![endif]>
Table 1: Splits of my Rope-Solo Speed Ascent of the North Face of the Maiden
| | | |
| --- | --- | --- |
| Location | Split Time | Total Elapsed Time |
| Leave bridge trail | 23:28 | 0:23:18 |
| Start of the climbing route | 18:53 | 0:42:21 |
| Leaving Crow's Nest after gearing up and messing with ropes | ~15:00 | 0:57:21 |
| Summit of the Maiden | 18:05 | 1:16:26 |
| Starting rappels (took way too long to set this up) | 4:47 | 1:21:13 |
| Done with rappels and packing up gear. Starting the hike out. | 9:58 | 1:31:11 |
| Back on the bridge trail | 7:19 | 1:38:30 |
| Creek crossing at mouth of Shadow Canyon | 4:24 | 1:42:54 |
| Towhee Trail junction | 4:46 | 1:47:40 |
| South Mesa Trailhead (finish) | 10:51 | 1:58:31 |
<![if !supportEmptyParas]> <![endif]>
<![if !vml]>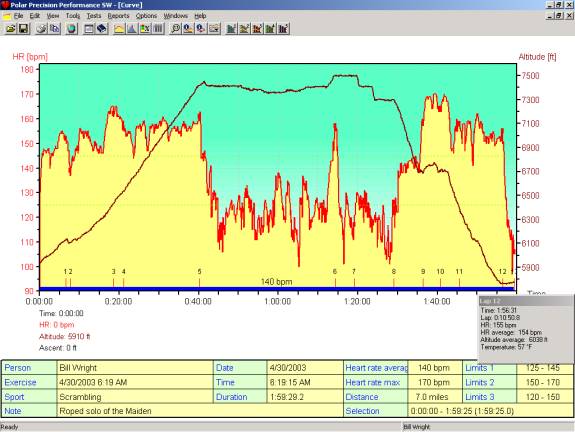 <![endif]>