Satan's Minions Scrambling Club
Dedicated to exploring the Flatirons near Boulder, Colorado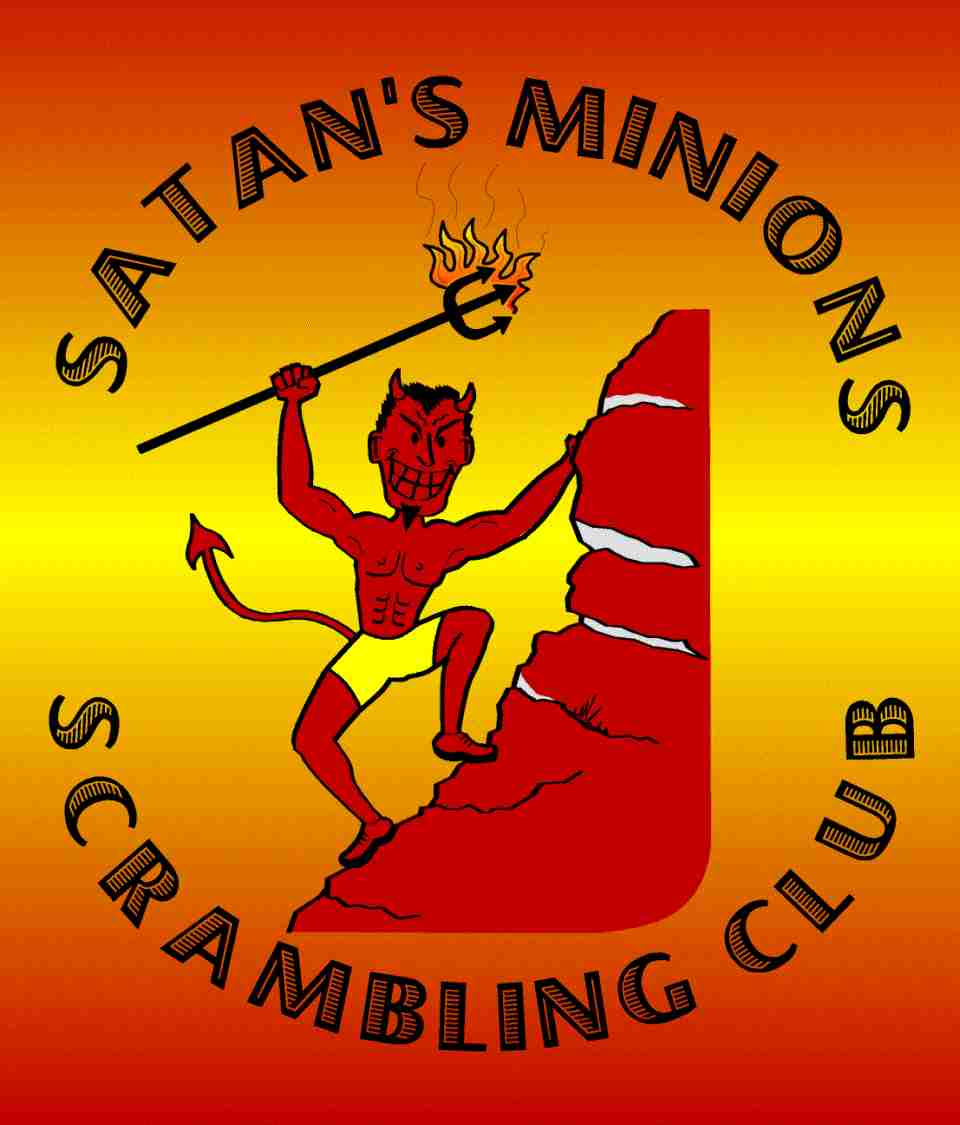 ---
Our club meetings include all of the following:
Hiking

We usually take a minimum of gear and speed hike into a route.

Trail Running

To be an official outing, we must run on the way back to the cars.

Scrambling

We frequently do easy (3rd/4th class) routes that are really just scrambles.

Easy Solo Ascents

Many of the most consistent members are comfortable soloing up to 5.4 or 5.5 and, depending upon who shows up, we'll just solo routes up to this level.

Roped Climbing

If members less enamored with soloing show up or the route is 5.6 or harder, we'll bring a rope, harness, some gear, and, if it is really hard, even rock shoes (gasp!)

---
---
Enjoy getting up early in the morning
Like to move fast with a minimum amount of gear
Like to trail run
Are a climber and don't mind soloing easy terrain
A fun, positive person
And most important: Have a solo time for the East Face of the Third Flatiron (Chautauqua to Chautauqua)
Own a copy of the out of print Book of Armaments: Gerry Roach's Flatiron Classics.
Electronic mail address
minions@wwwright.com or bill@wwwright.com

Web address
http://wwwright.com/Climbing/Minions
---
Meeting Times and Current Calendar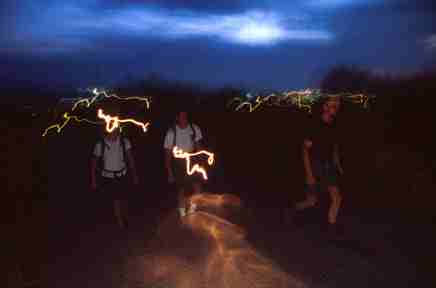 Above is a picture of a typical approach via headlamp (Photo © Phil Mislinski)
The Minions always meet on week day mornings. In the summer we meet at 5:30 a.m., but as you get further and further away from the longest and warmest days, we meet later and later. The outings typically last until 8-8:30 a.m. so that we can be in at work before 9 a.m. The trailheads where we have met before include Chautauqua, Cragmoor, Devil's Thumb, NCAR, Gregory Canyon, South Mesa Trail, and Old Mesa Trail. Click here for directions to these trailheads.
Frequently sections of the Flatirons are closed due to raptor nesting in the spring and more recently due to bat nesting, which lasts through the fall. Check the Boulder Open Space site for currently closures.
---
Our goals are to enjoy the Flatirons and explore every rock, route, canyon, trail, etc. We want to stay fit and fast, but safe. We solo what we're comfortable on, but don't really push things here and don't have any goals to push the soloing difficulty. Below are some goals being pursued by various members:
Top Ten Flatiron Routes in a day (record time: 10h26m)
Climb all 53 Roach Classics (Doctor of. Flatironology, Graduate Summit Cum Laude if you've done 100 or more routes)
Climb every route in the Book of Armaments. See this chart for Bill Wright's progress toward this goal.
Check off every item in the Book of Armaments index (climb all routes, visit all locations, hike every trail, etc.)
---
Base titles are derived from the members personal record on the TTT (described below) and upgraded by the total number of checkmarks in the Book of Armaments.
The Third Flatiron Time Trial (TTT) is a time trial that starts and ends at the trashcan located at the top of the stairs leading out the southwest corner of the Chautauqua parking. The time must be for an unsupported ascent. This means that no support can be used from outside sources, specifically: if you are going to rappel, then you need to carry the rope on the ascent and descent. You must follow the Standard East Face route. This is an eight pitch, 5.2 climb. Normally, one would do three single rope rappels to get off the Third Flatiron, but it can be done in two rappels if a 60-meter rope is used.
Third Flatiron Time Trial Titles:
| Round Trip Time Under | Title |
| --- | --- |
| 3 hours | Chick Scrambler |
| 2 hours | Scrambler |
| 1:30 | Minion |
| 1:15 | Minion First Class |
| one hour | Major Minion |
| 0:55 | Minion Extraordinaire |
| 0:50 | Grand Minion |
| 0:45 | Imperial Grand Minion |
| 0:40 | Satan |
A trip report on our latest time trial can be found here.
---
---
Copyright SMSC, all rights reserved.
Last revised: February 08, 2001.